Australian Bankers' Lower Salaries Could Hurt NAB's Hunt for CEO
(Bloomberg) -- National Australia Bank Ltd. has started a global search for a new CEO after the sudden departure of Andrew Thorburn. It may have to look closer to home.
Pay for Australian bank chiefs trails their global counterparts, which may make it difficult for the Melbourne-based lender to entice a new chief executive officer from abroad to take on the herculean task of restoring its tattered reputation.
"It's going to be harder to basically pay a lot to get someone from overseas," said Brian Johnson, banking analyst at CLSA in Sydney.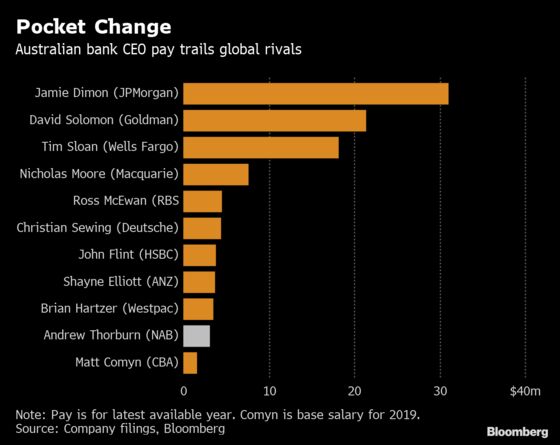 The yearlong inquiry uncovered a litany of wrongdoing across the industry, from charging dead people fees to advisers pushing customers into bad investments to meet bonus targets. National Australia staff accepted cash bribes to approve fraudulent mortgages and misled the regulator over a fees-for-no-service scandal.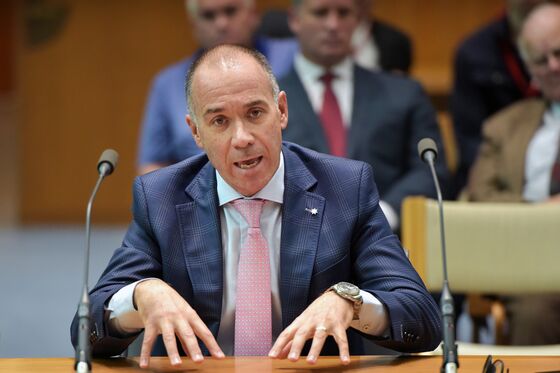 With Royal Commissioner Kenneth Hayne concluding greed was at the heart of most of the wrongdoing, and tasking the prudential regulator to give more attention to pay structures, there's little room for banks to splash cash on a new CEO.
Commonwealth Bank of Australia also held a global search for a new CEO after Ian Narev left in the wake of money-laundering scandal, only to give the job to veteran insider Matt Comyn. He's on a base salary of A$2.2 million ($1.6 million) this year, and has already forgone his short-term bonus after a scathing report into the bank's culture.
Running National Australia isn't exactly a sweet gig either. Whoever takes the job will have to restore customer trust in the lender and steer it through a tougher landscape of falling earnings, a sinking housing market and rising funding and compliance costs. They will also inherit Thorburn's overhaul of the bank, including the elimination of 4,000 jobs.
"It's harder now to actually run an Australian bank," Johnson said. "The really easy times are over."
One of the leading internal candidates is Mike Baird, the former New South Wales state premier who now runs National Australia's retail bank. His total pay, including bonuses, last year: A$2.7 million.