Lotte Says It Plans to Invest $44 Billion Over Next Five Years
(Bloomberg) -- Lotte Group, South Korea's fifth-largest conglomerate, plans to spend 50 trillion won ($44 billion) over the next five years, the latest sign that the group is stepping up its growth plans after a Seoul court released its chairman earlier this month by suspending his bribery-and-embezzlement sentence.
Lotte, which had about $100 billion of assets as of 2017, is also planning to hire 70,000 workers during the period, mainly for its e-commerce retail business, according to an emailed statement on Tuesday.
The announcement marks the latest indication that Lotte Chairman Shin Dong-bin is reviving plans that had been stalled during his jailing. Shin was absent for eight months as Lotte was struggling with a boycott by Chinese consumers.
Lotte may be moving on from China. The group said it will push into new markets and expand in Indonesia and Vietnam but didn't mention the world's second-largest economy at all. Lotte is also planning to expand chemical facilities in South Korea, Indonesia, and the U.S.
Lotte plans big investments in retail infrastructure to bring brick-and-mortar stores online as sales from traditional outlets like hypermarkets and department stores sag.
The group also said it plans mergers and acquisitions in the tourism-and-service industries, signaling Lotte may revive its interest in buying hotels.
Shares of all Lotte's listed units were down as of noon in Seoul trading but the shares had already been down before the announcement amid a broader rout in equities across Asia.
Of the total investment amount, Lotte Group plans to allocate 40 percent toward chemicals and construction, 25 percent to retail, 25 percent to tourism and services, and 10 percent to foods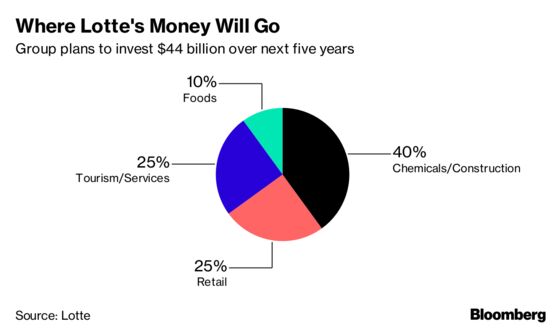 Lotte said it may develop new businesses and pursue M&As that aren't mentioned in Tuesday's announcement.