Los Angeles Traffic Slumps After Viral Surge Forces Clampdown
(Bloomberg) -- Los Angeles traffic dropped sharply over the past month after a surge of the coronavirus prompted new stay-at-home measures, highlighting how the pandemic remains a major hurdle for a recovery in fuel consumption.
Traffic on major toll roads through Los Angeles County dipped 10% from a month earlier in the week ended Jan. 11 to less than 148,000 vehicles a day, the most recent data from Metro ExpressLanes show. That's a 54% plunge from a year ago.
California has surpassed 3 million confirmed cases of the coronavirus, exceeding the reported infections in France, Italy and Spain. The traffic slowdown follows a month of some of the strictest lockdown measures in the country, which are now being eased after statewide uproar.
Northern California Traffic Shows Lingering Viral Pall on Demand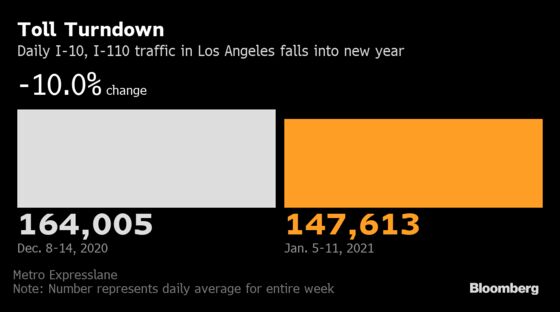 The pandemic's devastating impact on U.S. refineries persists with gasoline piling up in storage tanks, while fuel production rates and demand are at their lowest in many years.
West Coast refinery utilization has dropped to about 72%, the lowest in 10 years for this time of year. Nationwide, gasoline demand is at its lowest seasonal level since the late 1990s.
The traffic survey covers the main Los Angeles toll roads: I-10 lanes for 14 miles from the San Bernardino Freeway to downtown Los Angeles, and an 11-mile stretch of I-110 along the Harbor Freeway.