Lopez Obrador's Top Lawyer Says Airport Bonds Safe From Default
(Bloomberg) -- Mexico's incoming government pushed back against investor concern about a decision to scrap a partially built $13 billion airport, saying saying the cancellation won't trigger a default or faster repayments on bonds sold to help finance it.
"We don't see a scenario of default or acceleration occurring," Julio Scherer, President-elect Andres Manuel Lopez Obrador's pick for chief counsel, said in an email to Bloomberg News on Wednesday.
Scherer said the financing structure guarantees payment on the bond coupons using the existing Mexico City airport's departure taxes, known as TUA. The government will keep making coupon payments as scheduled and that there won't be any need use budgetary funds to finance them, he said. Scherer didn't respond to questions about the possibility of a technical default.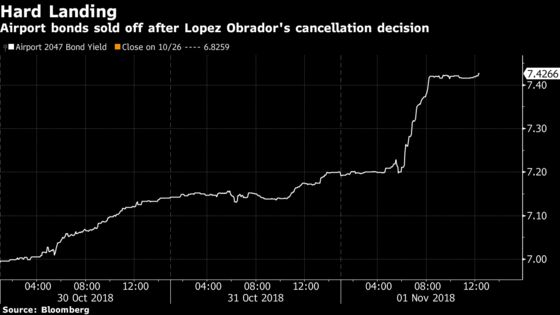 The statement came after warnings from Citigroup Inc. and Fitch Ratings that bondholders may now be entitled to an early payout. Michael Fitzgerald, a lawyer with New York-based Paul Hastings who was part of the team of advisers for the underwriters, said a mandatory redemption may be on the horizon.
The airport decision led Fitch to cut its outlook on Mexico's sovereign credit to negative from stable, while Moody's Investors Service reduced its rating on the airport bonds themselves. The bonds extended their decline on Thursday, sending yields on debt maturing in 2047 up 21.5 basis points to a record 7.478 percent. Yields have jumped 60 basis points since Monday's announcement, while the peso dropped to its lowest since June before edging higher today.