Hungary Is Seeking Buyers for the Longest Sovereign Green Bond
(Bloomberg) -- Hungary sold more of its debut domestic green bond than planned, as investors flocked to the high yield offered by the world's longest maturing eco-friendly debt.
Investors bid 141 billion forint ($470 million) for the local currency notes due in 2051, allowing the debt agency to sell 30 billion forint or 50% more than expected, according to auction results published on Bloomberg. The average yield was 3.69%, among the highest in Europe and a full percentage point above its conventional 10-year bonds.
The sale is part of efforts by Zoltan Kurali, a former Deutsche Bank AG investment banker turned debt chief, to extend the lifespan of Hungary's borrowing. It taps two of the hot trends in global debt markets this year: countries selling ultra-long bonds and investors paying a premium to grab sustainable assets.
"The auction has good optics and demand was significant," said Peter Virovacz, an economist at ING Group NV in Budapest, who had estimated the average yield would be close to 4%.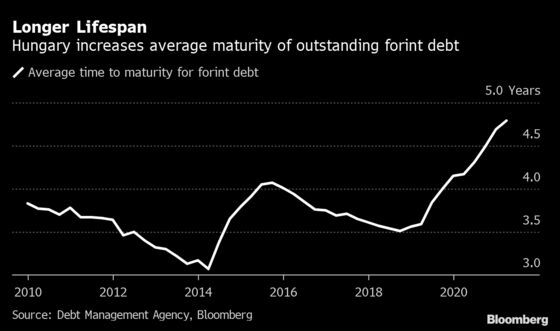 The bond is the longest maturing sovereign green debt available to investors, according to data compiled by Bloomberg. Its 30-year length will put it on a par with green dollar debt sold by Hong Kong earlier this year and a euro-denominated offering from Poland in 2019.
Hungary lacks a strong pension or insurance fund industry that would be a natural buyer for ultra-long bonds, prompting uneven demand for some of the agency's more recent auctions. Tying the funds to environmental projects -- including spending on cleaner rail transportation -- was aimed at expanding the investor base.
Hungary sold an additional 11.2 billion forint of the bonds at its usual non-competitive tender following the auction on Thursday. The 30-year green bond will be offered once a quarter, with 90 billion forint of total issuance targeted for 2021.
"Our auction strategy allows us to be flexible in responding to demand," Kurali said by phone after the sale. "But I don't think we want to be too aggressive as the market can change quickly."
The central bank has pledged to help, offering to buy the debt as part of its quantitative-easing program. Despite the equivalent of $6.3 billion in purchases by the authority, Hungary's forint yield curve remains the steepest among eastern European peers. Only Romania offers higher yields in the region.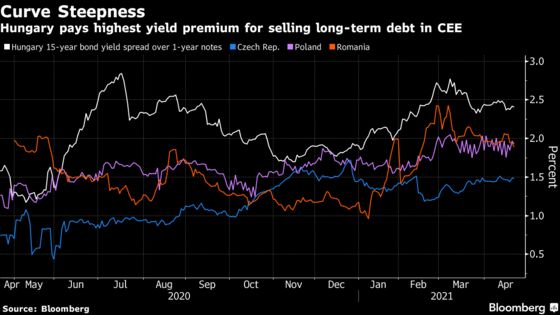 The debt agency has already scrapped the sale of three-year bonds, lifted offerings of 15- and 20-year notes, and turned to switch auctions to cut back on short-term debt. The new green bond is now the country's longest maturity.
"This is a very unique instrument," said ING's Virovacz. With the global reflation theme likely returning to traders' attention, future sales will probably be at even higher yield levels, he said.