London's Much-Delayed Crossrail Line to Now Open Summer 2021
(Bloomberg) -- London's long wait for a delayed and over-budget cross-city rail line may end in summer 2021, a year later than the most recently scheduled opening time.
The central section of the Crossrail project from Paddington Station to Abbey Wood, originally set for December 2018 and then revised to 2020, is now planned to start operating in the middle of next year, Transport for London said in a statement on Friday. The full line from Reading and Heathrow Airport in the west of the city to Shenfield in the east will commence by mid-2022.
Crossrail Ltd. says it will lift central London's rail capacity by 10% to 200 million passengers a year, contributing an anticipated 42 billion pounds ($54.9 billion) to the economy. Despite the latest delay, costs would remain within a budget range announced in November, Tfl said, although that's as much as 650 million pounds above an earlier estimate of 15 billion pounds.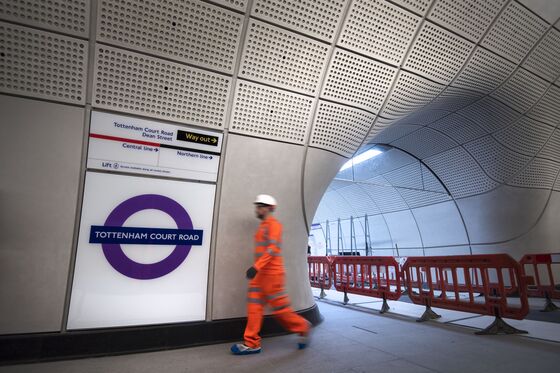 The route -- to be known as the Elizabeth line, after the current British queen -- will link locations across the U.K. capital including Heathrow, the West End shopping district and the City and Canary Wharf financial centers, and will allow passengers to travel across the capital faster than they can on the existing network.
Trains from Heathrow Central will take 40 minutes to reach Canary Wharf. Currently the journey takes about 50 minutes and involves two subway lines, a short walk and a high-speed rail trip, according to the TfL website.