London's Citigroup Tower Could Be Sold for $1.6 Billion
(Bloomberg) -- The owner of the Canary Wharf skyscraper that's leased to Citigroup Inc. is considering a sale of the building for more than 1.2 billion pounds ($1.6 billion), as investors continue to line up for London's trophy buildings, people with knowledge of the plan said.
Broker CBRE Group Inc. is working with AGC Equity Partners Ltd. to advise on the potential disposal of one of the U.K. capital's largest office towers, the people said. They asked not to be identified as the plan is private. The Middle Eastern-backed private equity group completed a refinancing of the building this summer that has paved the way for the sale, the people said.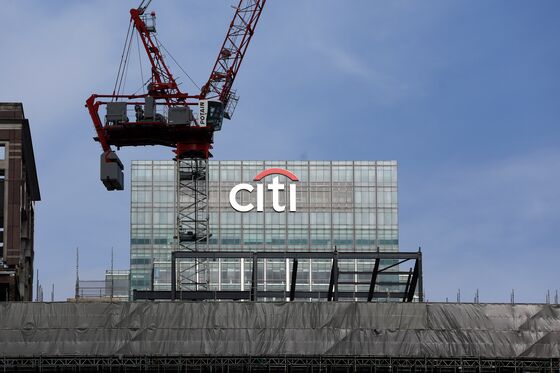 Representatives for AGC and CBRE declined to comment.
London's office market has remained buoyant despite the country's broader economic slowdown since the country voted to leave the EU two years ago. Investors' Brexit fears have been mitigated by their search for long-term investments that offer secure rental income. This year, the new headquarters of Goldman Sachs Group Inc. and UBS Group AG have both sold for north of 1 billion pounds. Deals for offices in the City of London will total about 12 billion pounds this year, according to a forecast published by broker Savills Plc last week. That's just shy of the record 12.6 billion pounds sold in 2017.
AGC bought the building in London's Docklands financial district for a reported 1 billion pounds in 2013 using a 661 million-pound loan from Bayerische Landesbank. That loan was refinanced by French lender Societe Generale SA this summer. The building was last valued at 1.2 billion pounds by a BNP Paribas SA unit, according to a May filing.
Read more: Citigroup's London Landlord Is Said to Seek New Loan for Tower
Citigroup rents all of the space in the tower at 25 Canada Square on long leases linked to inflation, and has sublet most of the building to other tenants, the people said. The tower encompasses about 1.2 million square feet, the equivalent of almost 19 soccer fields. Together with the adjoining 33 Canada Square, the building is known as the Citigroup Centre.
Investors spent about 4.7 billion pounds on central London offices in the second quarter, almost a third more than a year earlier, according to data compiled by broker Knight Frank. Overseas buyers benefiting from a weak pound, particularly those from Asia, accounted for about 89 percent of spending in the City of London district.