London Housing Is Taking a Beating From Brexit Uncertainty
(Bloomberg) -- London's house price slump left U.K. values stagnating for a fifth month in September as Brexit concerns and interest rate rises discouraged buyers.
The U.K.'s negotiations over leaving the EU dominated the concerns of London agents in the monthly survey from the Royal Institution of Chartered Surveyors. They said there hasn't been much of a pickup after the traditional summer lull, with buyers more cautious and sellers forced to cut prices to secure an offer.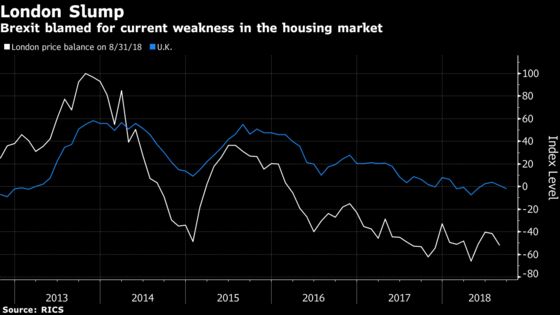 Nationwide, prices weakened slightly last month, the Royal Institution of Chartered Surveyors said in a report Thursday. Brokers in the capital reported the steepest slide in home values, with the southeast and East Anglia deteriorating. That was offset by increases across much of the rest of the country.
New buyer demand declined for the second successive report, with RICS's forward-looking sales expectation indicators turning more pessimistic.
The U.K. housing market has lost its momentum after a three-decade boom that was fanned by a shortage of supply across the country. London, which led the explosive gains, is now bearing the brunt of concerns over the economic and political outlook ahead of Britain's divorce from the European Union.
Shares of housebuilders fell on Thursday. Barratt Developments Plc and Countryside Properties Plc were both down about 10 percent as of 10:20 a.m in London.
Here's a roundup of some London agents' views in the RICS survey.
Allan Fuller, Allan Fuller Estate Agents:
"Market generally slow, vendors have to accept that values have dropped. The future of the market depends almost entirely on Brexit negotiations."

Allison Steele, Regent Property:
"Uncertainty over Brexit is having a massive impact combined with CGT implications."
"Main focus of concern with buyers and sellers is the stability of current government and Brexit. Plenty of mortgage deals available, as lenders chasing very few buyers."
James Cooper, Knight Frank:
"It appears to be a 'long summer' with the quiet holiday months extending in to the autumn. The constant negative rhetoric surrounding Brexit, and now the potential additional SDLT for overseas buyers is further causing uncertainty."
"Enquiries are on the rise but buyers are expressing caution in committing to purchase unless they envisage they are getting a real deal."
"We are still seeing steady transaction volumes, albeit at a lower level than pre-early 2016. The vendors who make the effort to recognize the market and reflect it in their pricing are the ones finding buyers."