Shell's Value Is Highlighted by Activist's Break-Up Plan, Analysts Say
(Bloomberg) -- Activist investor Dan Loeb's proposal to break up Royal Dutch Shell Plc highlights how undervalued the company is compared with other major oil producers, according to analysts, even if they're skeptical that idea will come to fruition. 
Valuing Shell's businesses separately yields a $250 billion market capitalization, compared with a current value of $180 billion, according to RBC Capital Markets.
Shell is resisting the proposal by Loeb's Third Point LLC to split the company in two, with one business consisting of liquefied natural gas, renewable energy and fuel marketing, and the other focused on its so-called upstream operations of drilling for oil and gas. A breakup would make the transition to low-carbon energy harder to achieve, it said.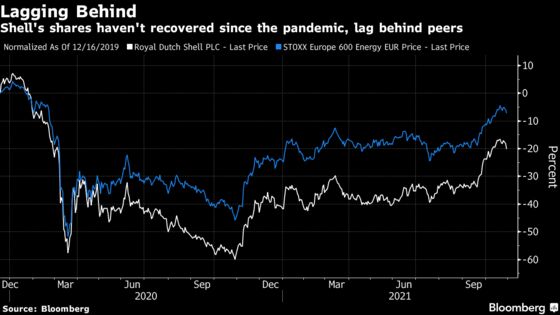 "The bottom line is that Shell's conglomerate discount is substantial, and news flow like this is likely to drive investors to look at the value of the individual parts of the business," Biraj Borkhataria, an analyst at RBC Capital Markets in London, wrote in a report. 
Borkhataria and other analysts see plenty of reasons to question the idea, though. Having an integrated business gives Shell flexibility to, for example, use earnings from oil and gas to accelerate growth in its electricity business during times of turmoil in the market, he wrote.  
Oswald Clint of Sanford C. Bernstein Ltd. agrees that the company needs a "full menu" of energy offerings to attract customers in the drive to net-zero carbon emissions. Still, the idea is sound, and the analyst has already called for the company to list its marketing business, which operates gas stations, on the stock market, he said.
"While we don't think a full split will be imminent, we totally agree on the substantial mispricing in Shell," wrote Clint, who has Shell as his top pick in European oil and gas.
Citigroup Inc. questioned what valuation the upstream business would achieve as a standalone company. "We struggle with the activism calls," analyst Alastair Syme wrote.
Bloomberg Intelligence's Will Hares said "the proposal carries major risks at a time of likely restoration of shareholder distributions" adding that "this may be more of an ESG marketing exercise than a legitimate proposition."
Shell's shares listed in London fell more than 3% on Thursday after the energy giant's third-quarter results missed estimates and as oil traded lower for a second day.