Lockheed's Heavy-Lift Helicopter Is Sucking Up More Money, Time
(Bloomberg) -- Lockheed Martin Corp.'s King Stallion helicopter for the Marine Corps keeps growing costlier, with the Pentagon asking Congress to shift $158 million in funds to avert "significant delays" and a potential work stoppage on the heavy-lift chopper.
The previously undisclosed request to Congress this month to reprogram funds from other accounts is being sought to complete development of three software updates, finish flight testing and correct what the Pentagon's combat testing office says in its latest assessment are "multiple design deficiencies discovered during early testing."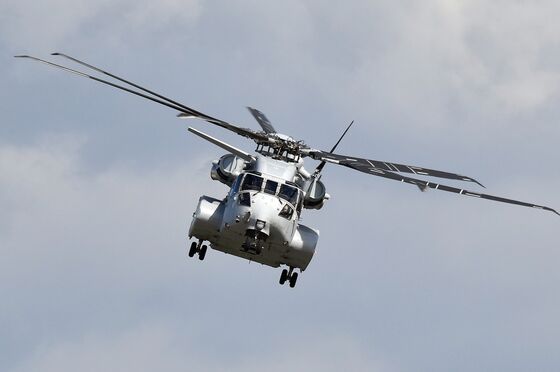 The problems are also requiring the Defense Department program office to prepare a "major schedule revision," the testing office said in the assessment for 2018 obtained by Bloomberg News. The Marines plan to delay a December target date to declare the helicopter has initial combat capability.
Among the deficiencies cited by the testing office: flaws with the cockpit airspeed indicator, low reliability of the main-rotor gearbox, structural problems with the tail boom and tail rotor, high temperatures and hot gas ingestion into one of the chopper's engine bays and hot exhaust gas sucked back into the engine.
The three-engine King Stallion will be the same size as its predecessor, the Super Stallion but will be able to externally lift 27,000 pounds (12,200 kilograms). That's "more than triple the external load carrying capacity" of the earlier helicopter, according to a Lockheed fact sheet.
The program's revenue potential was a motivation for Bethesda, Maryland-based Lockheed's $9 billion acquisition of Sikorsky Aircraft Corp. from United Technologies Corp. in 2015. Lockheed executives may be asked about the program's status when they talk to analysts after reporting fourth-quarter earnings on Tuesday.
All four congressional committees that authorize and appropriate dollars must approve the request before money can be shifted. The biggest slice of the money would be moved from the Navy's program to upgrade H-1 Huey helicopters.
Those funds are available because of "effective negotiations of contractor rates" that resulted in recent savings, according to the request that was prepared last month and signed by then-Comptroller David Norquist, who's now acting deputy defense secretary.
The King Stallion's new overrun and its persistent flaws may receive tough scrutiny from the House Armed Services Committee under its new chairman, Democrat Adam Smith, and his Senate counterpart, Republican James Inhofe.
Greg Kuntz, a spokesman for the Naval Air Systems Command, said in an email that the extra money was needed after the "discovery of technical issues later than expected and inadequate rate of their closure resulted in a flight-test efficiency rate that was less than projected."
"This critical additional $158M funding will enable the test program to support" Marine Corps "preparations and operational deployment in 2023-2024." The request represents a 2.3 percent increase to the program's previously estimated $6.9 billion research and development effort through 2023, he said.
Bill Falk, Lockheed's program manager for the helicopter, said in an email that "we remain aligned on a program plan" with the Marines to support the first deployment in 2023-2024. A number of items cited in the Pentagon testing office report already have been resolved since the report was drafted, he said.
"Of those design items not yet closed, we have an agreed, joint, integrated path forward to have solutions in place to support" initial combat testing and the helicopter's first deployment, he said.
James Geurts, the Navy's top weapons buyer, "remains concerned and is closely monitoring cost, schedule and performance as lots of work remains," his spokesman, Captain Danny Hernandez, said in a statement last month.