Lockdown Winners Fade as Reopen Trade Roars After Covid Data
(Bloomberg) -- Investors cashed out of companies that benefited from virus-induced lockdowns after promising results for a Covid-19 vaccine developed by Pfizer Inc. and BioNTech SE reawakened hopes that a return to normal is on the horizon.
Zoom Video Communications Inc. plunged as much as 20%, the most on record, while Peloton Interactive Inc. dropped 25%, a record of its own, and Netflix Inc. dropped 9.2% as investors piled into risk assets and dumped shares of firms that have been winners during global lockdowns. The Nasdaq 100 edged higher but markedly underperformed other key gauges like the S&P 500.
High-flying payment stocks PayPal Holdings Inc. and Square Inc. also sank.
"The rotation that the market is doing is beyond any imagination with Nasdaq in negative territory and Russell 2000 in limit up," said Alberto Tocchio, a portfolio manager at Kairos Partners. "We will continue to see some rotation out of "winners" into the laggards."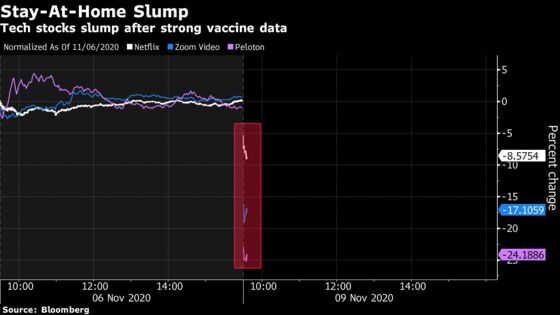 The preliminary results, which Pfizer's chief executive called the most significant medical advance in the last century, dealt a blow to some of the lockdowns' biggest winners as a push to reopen would mean less time on video chats and working out from home. Those expectations in turn lead to a roaring boom for companies that operate things like cruises, concerts, and hotels.
The selloff in some of the market's highest fliers also hit stocks in Europe that had benefited as people were forced to stay home like food delivery companies, video game stocks and payments firms.
Meal-kit maker HelloFresh SE fell as much as 20%, while online retailer Zalando SE dropped 16% and TeamViewer AG, which makes tools for remote access to computers, slid 13%. Diagnostic testing stocks Eurofins Scientific SE and BioMerieux were also among the biggest fallers on the benchmark Stoxx 600 Index, as was drug development equipment maker Sartorius Stedim Biotech.
"The laggards of the past few months, the likes of hospitality and airlines, are up significantly, while the mega-cap tech stocks are flat. Indeed, some winners of the pandemic are seeing underperformance now as demand for them is likely to be hit.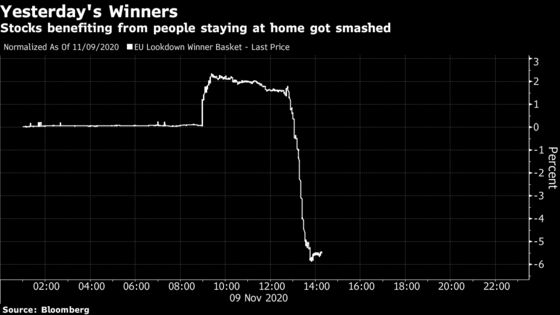 "There are still some questions to be answered around the rollout of this vaccine, and with the U.S. political uncertainty not quite finalised yet there remains some risk still on the table," said Paul Craig, portfolio manager at Quilter Investors. "But for well-diversified investors, they will do will to stay focused on the middle 80% of companies rather than glamour investing and over the long-term are likely to benefit the greatest from the new environment."
Zoom and Peloton -- both stocks and companies that have become household names because of the virus -- were among the market's top decliners. Other companies that cater to online consumers like Wayfair Inc. and Etsy Inc. tumbled on the news. The pair each fell more than 10% while Pinterest Inc. sank 8.9% and Overstock.com Inc. plunged 22%.
Netflix dropped as much as 9.2% and Amazon.com Inc. tumbled as much as 6% as the Nasdaq 100 underperformed the S&P 500. Roku Inc. sank as much as 11% for its biggest drop since March 18. Companies that make and sell Covid-19 testing kits like Quidel Corp. crashed as investors weighed what testing would look like if a vaccine is successfully developed and distributed.
Gold and miners of the precious metal were hammered as a result of the rotation. Spot gold fell as much as 4.2%, the most intraday since Aug. 11. Miners of silver, platinum and palladium also tumbled as traders ditched the safe haven assets.
Some software companies like DocuSign Inc. and Crowdstrike Holdings Inc. were hammered while online marketplace stocks in JD.com Inc. and Shopify Inc. cratered.
Airline stocks and cruiseliners helped lead the S&P 500 higher as investors flocked to companies that had fallen out of favor as global travel and vacations were paused.
Cruise companies including Carnival Corp., Royal Caribbean Cruises Ltd, and Norwegian Cruise Line Holdings Ltd. all surged more than 25% in early trading Monday. American Airlines Group Inc. and United Airlines Holdings Inc. jumped 25% and Southwest Airlines Co. and Delta Air Lines Inc. each rallied more than 20%.
Theme park operators ranging from Comcast Corp and Walt Disney Co. to Six Flags Entertainment Corp and Cedar Fair surged. Disney shares boomed 14% while Six Flags and Cedar Point jumped 25% and 23% respectively.
Ride sharing stocks rallied with Lyft Inc. surging 21% and Uber Technologies Inc. jumping 8.5%.
Movie theater operators AMC Entertainment Holdings Inc. and Cinemark Holdings Inc. surged more than 50% while restaurant Dave & Buster's Entertainment Inc. jumped 47% for its best day since March.
Casino stocks rallied with Wynn Resorts, Caesars Entertainment Inc. and MGM Resorts climbing more than 17%.
Medical device companies that sell things like knee implants and heart valves rallied with Medtronic Inc., Edwards Lifesciences Corp., and Baxter International Inc. gaining more than 3.7% each.

The S&P 1500 Hotels, Restaurants & Leisure Index (S15HOTRX), comprised of 44 stocks, climbed as much as 7.6% in early regular-session trade to the highest since February

Pizza delivery companies Papa John's and Domino's Pizza, both of which benefited from lock-downs, are among the few decliners within the index

Office REITs with New York City exposure rallied led by Vornado Realty Trust, SL Green Realty Corp., and Empire State Realty Trust Inc. which all gained more than 17%.