Loan Deals Scrapped or Sold at Deep Discount as Market Slips
(Bloomberg) -- It used to be a breeze for a company to get a loan, even a highly risky one. Now, not so much.
While the party isn't quite over, financial jitters around the world have made lenders and investors less willing to give loans to heavily indebted companies. Loan offerings are being pulled and lenders are demanding -- and getting -- sweeter terms. JPMorgan Chase & Co. on Tuesday had to slash the price on a $210 million loan to 93 cents on the dollar from around 100 to help finance a private jet takeover. In Europe, three loans were scrapped over the last two weeks, victims of the Brexit tensions gripping the U.K.
Fears of a slowing global economic growth, combined with anxiety over trade talks between the U.S. and China and investors' reluctance to take risk before year end, have all helped mar the picture. Investors are also concerned about higher interest rates weighing on corporate profits. These fears are spreading across credit markets, from investment-grade debt to junk bonds.
"No one thinks this is the big one," said Richard Farley, chair of the leveraged finance group at Kramer Levin Naftalis & Frankel. "But on the fear to greed continuum we have definitely moved closer to fear."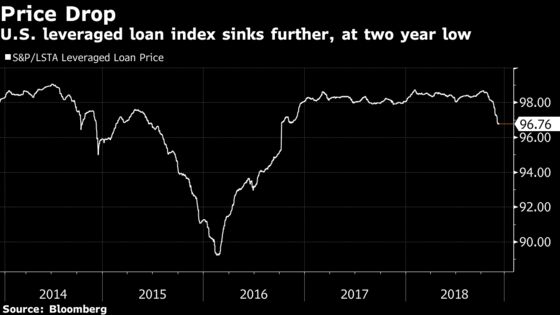 The shift in sentiment is stark. For most of the year, investors clamored for floating-rate products like leveraged loans based on the assumption that they will fare better in a rising-rate environment. The strong demand allowed companies to sell new debt with weaker protections for creditors and higher leverage, triggering warnings about deteriorating standards from regulators and bond graders in recent months.
Now, leveraged loan price indexes in Europe and the U.S. are at their lowest level in two years, while nearly all of the loans outstanding are now trading below their face value. The percentage of loans trading above face value has slipped to 3.9 percent, a 29-month low, down from 65.4 percent in early October, according to a Nov. 30 JPMorgan report.
The pick up in volatility has made investors more skittish. Leveraged loan funds saw over $4 billion of outflows in the three weeks ended Dec. 5, the largest cash bleed in almost four years for such a period, according to Lipper data.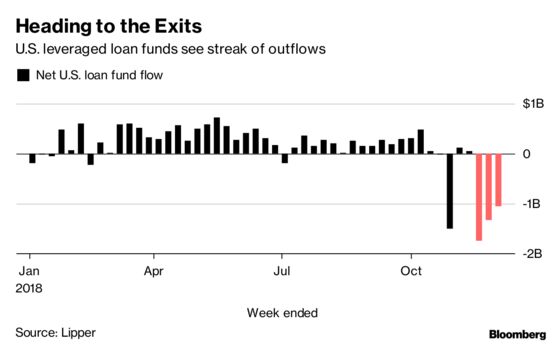 JPMorgan offloaded loans financing the takeover of XOJET Inc. at 93 cents on the dollar, one of the steepest discounts seen in the leveraged loan market this year. The size of the deal was cut by $70 million from the originally targeted amount.
In Europe, movie theater chain Vue International withdrew a 833 million pound-equivalent ($1.07 billion) loan sale. While the deal was meant to mostly refinance existing debt, around 100 million pounds was underwritten to finance the company's acquisition of German group CineStar.
The recent weakness has raised concerns on Wall Street that other debt sales currently in the works may be sold at discounts that are so deep underwriters may have to book a loss, if they can be sold at all. Still, other investors remain upbeat, convinced that the pull back is temporary and has created an opportunity to add risk.
"The downdraft in loans has been very orderly thus far," said Chris Mawn, head of the corporate loan business at investment manager CarVal Investors. "We anticipate most managers will keep buying in this market trying to be opportunistic and those who don't have to sell will just hold."