Lloyds Beats Forecasts and Begins to Unwind Covid Provisions
Lloyds Banking Group Plc beat forecasts in the first quarter as it reversed some provisions for bad loans, saying the British economy shows signs of recovering from the Covid-19 pandemic.
Pretax profit of 1.9 billion pounds ($2.6 billion) came in ahead of analyst expectations for 1.17 billion pounds, according to a consensus compiled by Bloomberg. Lloyds also upgraded its outlook for the U.K., where half the population is at least partly vaccinated, and now expects growth to soar to 5% this year.
Britain's biggest mortgage lender released a net 323 million pounds that it had stashed for failing loans, seeing fewer defaults due to extended government support measures as well as faster growth. Analysts had predicted that Lloyds would add to last year's 4.2 billion-pound provisions.
"We now expect a better economic scenario," outgoing Chief Executive Officer Antonio Horta-Osorio said on Wednesday, in his last earnings before joining Credit Suisse Group AG as chairman. Chief Financial Officer William Chalmers will become interim chief next month, before HSBC Holdings Plc's wealth head Charlie Nunn takes over in August.
Shares rose as much as 4.9% in early London trading. "A stellar first-quarter on all fronts," said Joseph Dickerson, analyst at Jefferies International Ltd..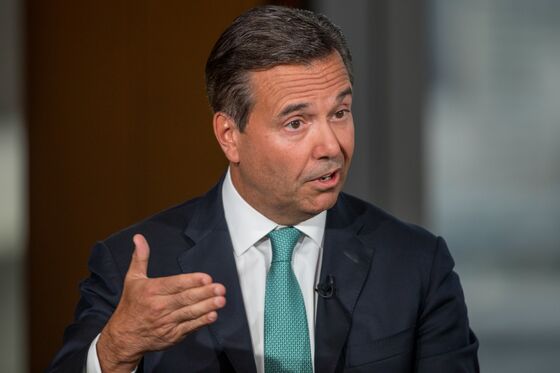 Lloyds joins banks across Europe in an upbeat view of the coming year. HSBC Holdings Plc on Tuesday also released some provisions, saying the outlook for the U.K. had improved markedly, while Deutsche Bank AG and Banco Santander SA both beat forecasts on Wednesday.
Chalmers said the London-based bank is preparing for "a modest third wave" in its forecasts for 2021, while still expecting spending to improve and the economy to reopen.
British shoppers have raced back faster than expected, even before the government started to unwind January's lockdown measures. Demand for home loans was resilient through the pandemic, helped by tax breaks, and got a further boost in March from the revival of 95% loan-to-value mortgages, partly underwritten by the government.
Mortgage completions in March hit their highest level since 2008, Horta-Osorio told reporters.
The bank's CET1 ratio, a key measure of capital strength, was "significantly ahead" of its targets at 16.7% while costs fell 2% as part of a long-running savings drive. The bank has already signaled a return to dividends and hopes the U.K.'s Prudential Regulatory Authority will lift the limits set during the pandemic in the coming months.
"Lloyds has built up a formidable capital position over last year," said Nicholas Hyett, equity analyst at Hargreaves Lansdown. "Share buybacks, a special dividend, aggressive organic growth or even an acquisition are all possibilities."
What Bloomberg Intelligence Says

"Lloyds Banking Group's guidance upgrade for 2021's net interest margin of 5 bps to "in excess of 245 bps" as well as earning-asset growth in the low-single-digit percentages should both drive consensus hikes, in our view. Coupled with a very solid set of 1Q results, provision writeback and consensus-busting CET1, we see these results boosting sentiment considerably."

Jonathan Tyce, BI banking analyst

Click here to read the research.
Lloyds also lent about 12 billion pounds under state-backed programs to sustain businesses during the pandemic. The first repayments are starting to fall due, though the government is allowing borrowers to delay for a further six months to hold off a wave of defaults while the economy is still restrained by Covid-19 measures.
"We've done everything we can to filter out fraud in bounce-back loans applications," said Chalmers. Talks to outsource the recovery of taxpayer-backed business debt seem to have hit a wall, with the CFO telling reporters that banks will each be in charge of their own loans.