Lloyd Blankfein Touts New York City Recovery at UJA Wall Street
(Bloomberg) -- There were no cocktail franks or elbows to bump into at Monday night's Wall Street Dinner.
"That was so 2019," Lloyd Blankfein said as he kicked off a virtual version of the annual benefit for the UJA-Federation of New York, a Jewish philanthropy.
For decades, the event has been a power gathering of major figures on Wall Street, their colleagues and juniors. It has long been one of the biggest fundraisers in the country, with this year's tally at $31 million so far.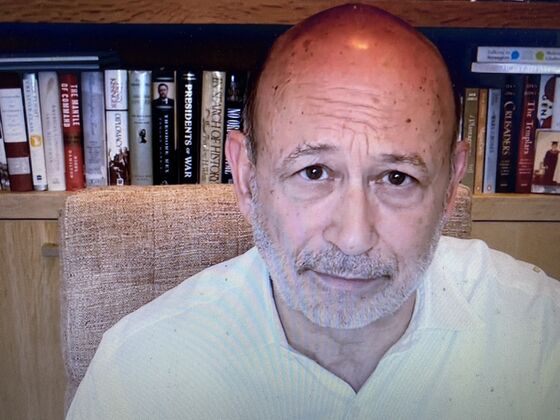 That's a lot of cocktail franks, and while they're the most popular item at any party, Blankfein made fun of the guests who might be missing them, or the platters of sushi, egg rolls and carved meats that are menu staples of the event at its usual midtown hotel venue.
"For those of you who think the food at the Hilton is better than what you have at home, my sympathy," said Blankfein, the former Goldman Sachs CEO who has hosted the event since 2018.
Fortunately, some of the elements of the event were intact, adjusted for computer screens. In some cases, the visuals were quite compelling.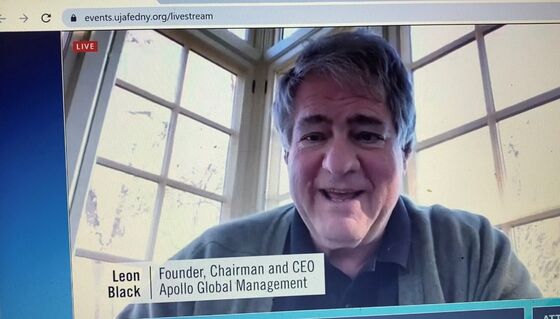 On the white desk behind him, Dan Och had a volume of "Caste" and a book by Lisa Perry on fashion, homes and design. John Paulson was in his office with works by Calder, while Leon Black appeared in front of windows in the tribute video to his Apollo co-founder Marc Rowan. Strauss Zelnick was in a wood-paneled room to talk about the other honoree, LionTree's Aryeh Bourkoff.
Blankfein logged in from his home on Long Island where he's spent most of the pandemic, "unemployed" with little need to go into the city, though he's made a few trips, he said in a telephone interview Tuesday.
For the UJA event, he chose as his backdrop a bookshelf heavy on history -- like "The Splendid and the Vile," which he hasn't gotten to during his "second gap year." (His first was the year after he retired from Goldman Sachs.)
Addressing about 1,500 guests, Blankfein talked about what Covid has wrought, how we'll recover and the important role UJA has to play.
"The pandemic and ensuing economic crisis have made so many ordinarily vulnerable people even more so and for those on the edge, pushed them over," Blankfein said. "Hundreds of thousands of people in our city can't put food on the table, they've lost their jobs, they're struggling to survive."
During the pandemic, UJA has distributed $52 million in emergency aid. It's opening hubs for social services in Queens, Brooklyn, the Lower East Side, Long Island and Westchester County.
"UJA has the network built for a time like this," Blankfein said. "We're doubling down on our core mission, and this is also the moment to look ahead to building a better, more resilient community."
And about the prospects for future Wall Street Dinner: "Next year we'll all be back at the Hilton, vaccinated, feeling like supermen and superwomen, squeezed in, talking six inches apart and probably wishing we were back on Zoom."