Lira Hands Unwanted Crown of Riskiest Emerging Currency to Ruble
(Bloomberg) -- The Turkish lira is no longer the riskiest currency out there. That unwanted title now belongs to Russia's ruble.
Three-month risk reversals for the lira -- the premium of derivatives contracts to sell the currency against the dollar over those to buy it -- have fallen below the ruble's for the first time since mid-May.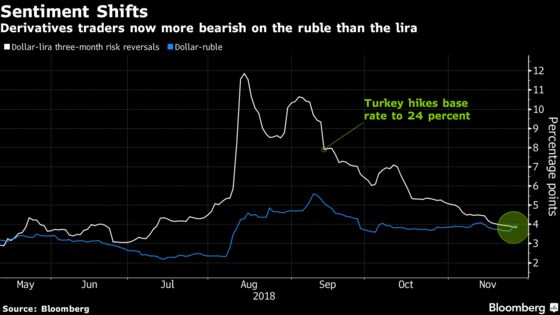 Lira risk reversals have plunged to 3.8 percentage points from almost 12 at the height of Turkey's currency crisis in August. The drop accelerated after the Turkish central bank hiked its main interest rate to 24 percent in September. Traders became even more bullish after the U.S. lifted some sanctions following Ankara's decision this month to release American pastor Andrew Brunson.
The ruble, meanwhile, is coming under pressure as oil prices tumble and investors worry that the U.S. may tighten sanctions on Russia. Ruble risk reversals jumped the most since Oct. 4 on Monday after a clash between Russian and Ukrainian warships in the Sea of Azov.