Eli Lilly's IPO of Animal Health Company Is Getting 'Ahead of Itself,' Goldman Says
(Bloomberg) -- Elanco Animal Health Inc. slipped as much as 3.3 percent intraday after lead managers and other banks involved in its recent initial public offering started coverage on the animal health company.
While no analyst tracked by Bloomberg has yet rated Elanco a sell, the drugmaker for animals earned eight hold ratings, more than the five buys it received. While the company may benefit from a macro environment that includes increasing meat consumption and "humanization of pets," Goldman Sachs analyst Jami Rubin said "the stock has gotten ahead of itself" after shares surged 36 percent through last week since a September listing at $24 per share.
With the average analyst price target at $34.60, implying a return of less than 9 percent over the next twelve months, Elanco may be coming up short as investors draw comparisons to Zoetis Inc. Zoetis, the top company in medicines for pets and cattle, has seen its shares more than triple since their debut in 2013. Elanco is majority owned by Eli Lilly & Co.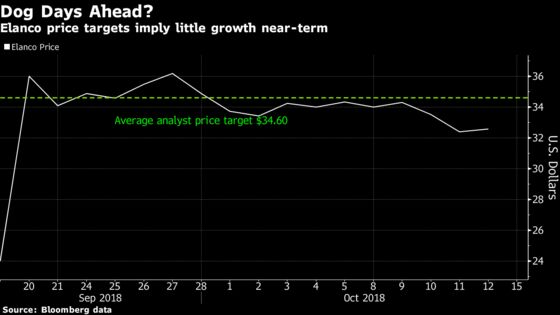 Here's what analysts are saying in their initiation reports:
Goldman, Jami Rubin
Elanco is trading at a more than 20 percent premium to Zoetis, "driven by scarcity value-- there are only two large public standalone animal health stocks-- and an attractive runway for meaningful margin expansion;" says Zoetis's margin gains have "largely played out."
Elanco may warrant a "slight premium" to Zoetis on faster profit growth, "however this is contingent on execution, thus we think the stock has gotten ahead of itself." Rubin thinks it is "premature" to give Elanco "credit before seeing at least a few quarters of better-than-expected execution."
"We see substantial opportunity for margin expansion yielding earnings growth in the upper teens," over the next five years, Rubin said. "We are also confident the antibiotic headwinds are largely behind Elanco, with the shared class antibiotics portfolio representing ~12% of 1H18 sales and declining at 7% CAGR ex-FX, down from ~21% of sales in 1H15. That said, the stock has had an impressive run, up ~37%, since its IPO."
Elanco is rated neutral at Goldman, with a 12-month price target of $30.
Morgan Stanley, David Risinger
"Zoetis is a compelling benchmark. Competitor Zoetis (#1 player in animal health) has driven strong growth and margin expansion since its IPO in 2013, and its stock has more than tripled since that time. Zoetis's success since its spin-off from parent company Pfizer was driven by: 1) consistent, durable revenue growth, 2) significant margin expansion, and 3) improving cash flow. We believe Elanco has similar attributes, albeit a slightly slower revenue growth profile and a higher initial P/E ratio."
"The big debate: Can margins expand dramatically? We believe they can. We project significant margin expansion for Elanco, driven by cost efficiencies and improving business mix," Risinger wrote. He estimates Elanco's operating margin will double from 14% in 2017 to 28% in 2023.
Elanco's portfolio of Trifexis, Credelio and Interceptor Plus to face competitive threats from broad anti-parasitics, Morgan Stanley predicts this may constrain revenue growth in the next few years. Any delays on competing products would be good for shares.
Morgan Stanley initiates Elanco at equal-weight with a price target of $35.
"Elanco is a top-5 Animal Health company with decades of experience and a strong reputation in the veterinary market. With only one other publicly traded large animal health company, Elanco offers investors a further opportunity to participate in this attractive market."
"Over the past several years, Elanco has been building off its strong base in food animal health to develop a more diversified animal health portfolio. A focus on the faster growth areas of companion animal preventive and therapeutic medicines, poultry and fish products (vaccines and parasiticides), and development efforts in nutritional and antibiotic alternatives, should support an estimated 2017-24 revenue CAGR of 4%, with +5-6% gains in 2022-24."
Cowen starts Elanco coverage at outperform with a price target of $38, "geared to upside potential for revenue and EPS as the product portfolio/top line transitions and margin improvement gains traction."
"The animal health market continues to enjoy strong secular growth tailwinds, and we are bullish on the company's recent transformation and future opportunities. However, we believe the risk/reward profile is balanced and that current valuation limits upside potential."
"We believe several risks to the top-line are built-in to company expectations (competitive launches, generic competition), but timing and severity of impact remain tough to predict. Significant margin expansion opportunity; Execution is key."
"We believe the biggest driver of earnings growth is margin expansion, as Elanco margins are well-below peers, and we forecast almost +200bps of annual operating margin expansion through 2023."
BofAML initiates Elanco at neutral with a $34 price objective.
"While ELAN shares have admittedly had a strong run post IPO (up ~36%) and are now trading at ~31x 2019E EPS, we see a favorable setup for the stock given the industry's highly attractive profile."
"Following a series of acquisitions over the past several years, Elanco's operating margins are well below peers"
Schott forecasts roughly 1000 bps of operating margin improvement for Elanco over the next five years and says, "Even after these improvements, Elanco's gross and operating margins will still be well below peers' and we see further margin expansion for the company beyond 2023."
"We expect valuation to be one of the biggest pushbacks on the story but see highly attractive industry fundamentals as well as the margin opportunity and upward
sales/EPS bias at Elanco translating to outperformance over time."
Elanco is rated overweight at JPMorgan with a price target of $38.