Lilly Cuts Forecast After U.S. Covid Drug Order Cancelled
(Bloomberg) -- Eli Lilly & Co. cut the high end of its 2021 forecast after the U.S. canceled an order for the drugmaker's solo Covid-19 antibody to focus on its combination treatment.
Adjusted earnings will top out at $8 a share, Indianapolis-based Lilly said Tuesday in a statement, down from an earlier maximum of $8.40. The company shaved the high end of its 2021 revenue forecast to $27.6 billion from $28 billion.
Earlier this month, the U.S. canceled a deal for hundreds of thousands of doses of the antibody, called bamlanivimab, due to fears of reduced effectiveness against Covid variants. The Food and Drug Administration also revoked its emergency-use authorization for the single antibody. Now the government is focusing instead on supply of the combination of that drug and etesevimab, which also treats the disease.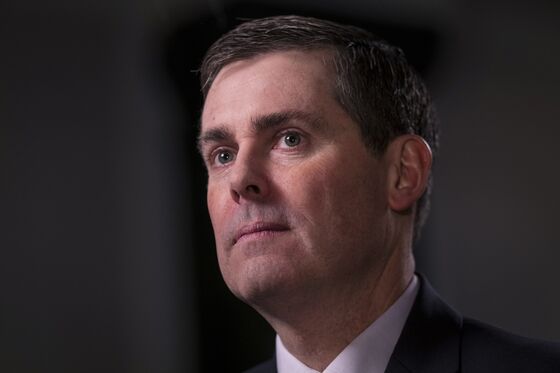 "The U.S. has already stocked up quite a bit of antibodies, not just from us, but also from Regeneron Pharmaceuticals Inc.," Chief Executive Office David Ricks said in an interview. "I don't expect many more orders from the U.S. government. The business is shifting outside of the U.S., mostly to Europe, which is in the midst of ongoing outbreaks and beginning to use these therapies more aggressively."
The shares fell as much as 3.4% as of 11:15 a.m. Tuesday in New York, the most intraday in six weeks. They had advanced 11% this year through Monday's close.
The shifting purchase agreements with the U.S. led to excess inventory of Covid-19 antibodies, Lilly said. Bamlanivimab used alone and in combination with etesevimab generated $810 million in first-quarter sales, Lilly said. Analysts surveyed by Bloomberg had estimated $883.1 million in quarterly sales of bamlanivimab.
The drugmaker now projects $1 billion to $1.5 billion in full-year sales from its Covid-19 antibody program. It had earlier forecast as much as $2 billion.
Lilly has pledged to sell antibody therapies at cost to countries in need, Ricks said. It also aims to donate hundreds of thousands of doses of the treatment to India, where the pandemic is raging, upon securing an approval from the Ministry of Health.
"That will of course dampen the revenue," the CEO said. "There's a difference between volume and revenue, and that's why we're lowering guidance for the year."
Overall, first-quarter revenue rose 16% year-over-year to $6.8 billion, missing the $7 billion in sales analysts expected. Adjusted earnings for the quarter were $1.87 a share, falling short of the average projection of $2.11.
Sales trends for non-Covid products remain volatile related to the pandemic, Ricks said. While diabetes drugs Trulicity and Jardiance saw growth from last year, insulin medication Humalog and psoriasis treatment Taltz declined.
Ricks said he expects to soon see U.S. sales pick up as people return to doctors' offices and attend to long-term medical conditions.
"Outside the U.S., it's probably delayed," he said. "Europe is projecting more of a fall return to normal based on the vaccine schedule. And Japan, which is our other major market, is even slower."
Quarterly performance "was expected to be lumpy in pharma due to the pandemic as well as sales of the Covid antibodies," Cantor Fitzgerald analyst Louise Chen said in a note to clients. She reiterated her positive investment thesis on the company's earnings profile and long-term growth prospects.
Quarterly operating expenses surged 11%, primarily due to research and development costs related to the antibody program.
Lilly also said it's starting a new late-stage clinical trial of its Alzheimer's drug candidate, donanemab, in people without clinical symptoms. The Trailblazer-Alz-3 study will evaluate whether the drug prevents development or slows progression of the disease in typically younger patients who have Alzheimer's brain pathology, Ricks said.
Enrollment will begin this year, and it will take about three years before an analysis of benefit can begin.
Lilly presented data in March showing the experimental drug modestly slowed Alzheimer's disease progression over about 18 months. It also completely removed an Alzheimer's-associated protein, beta amyloid, from the brains of most patients.
Those mid-stage trial results don't leave a path forward for near-term approval, Chief Scientific Officer Daniel Skovronsky said in a presentation for analysts and investors. The company remains in discussions with the Food and Drug Administration about the candidate, he said.