Libya's Oil Port of Hariga Reopens as Guards End Pay Strike
(Bloomberg) -- Libya's easternmost port of Hariga reopened after guards ended a monthlong strike that halted oil exports from the eastern terminal.
Members of the Petroleum Facilities Guard called off the action after getting paid, ending a dispute that began in early January, according to people familiar with the matter.
The strike had cut production by Libya's Arabian Gulf Oil Co., which operates Hariga, to 120,000 barrels a day from about 320,000. That reduced the OPEC member's daily output by about a sixth from 1.25 million barrels.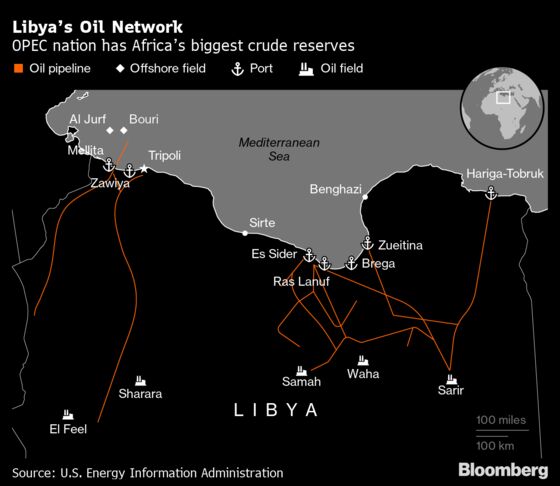 A tentative peace in Libya's decade-long civil war has spurred a revival of oil production in recent months. The country, home to Africa's largest oil reserves, was pumping almost nothing until September, when supporters of eastern military commander Khalifa Haftar ended a blockade of oil ports.
The state-owned National Oil Corp., however, is struggling to sustain output because of damaged infrastructure and the port strikes. The company is struggling to fix oil fields, storage tanks, pumping stations, pipelines and ports. The NOC said it lacks the money to carry out repairs, though it will get part of a $2 billion stopgap funding package from the government, Bloomberg reported this week.
Waha Oil Co., which operates the country's largest port of Es Sider, suffered a leak on a 28-inch crude pipeline recently that forced it to roughly halve production this week to 160,000 barrels a day. The company expects output to be back to normal by Feb. 15, according to a separate person familiar with matter.
Some of the guards have also threatened to halt cargoes at the ports of Es Sider and Ras Lanuf if they don't get paid by next week. They vowed those terminals would remain open and tankers could load normally until the deadline.
The Guard was designed as a neutral force to defend oil ports and fields. But its members helped blockade some installations last year on behalf of various groups and as they pressed their own demands.
The resurgent production in Libya has posed a dilemma for other members of OPEC, who are trying to bolster oil prices in the face of the coronavirus pandemic by restricting supplies. Libya is exempt from the cartel's quotas because of its strife.