Leverage in Asia Buyout Loans Is Edging Back to 2007 Levels
(Bloomberg) -- Leverage on buyout loans in Asia is climbing close to levels last seen before the global financial crisis as the region's lenders stomach higher risk in their pursuit of yield.
While the typical senior leverage ratio for Asian LBO loans was 3.5 to 4 times earnings, multiples of 4.5 to 5.5 are becoming more common, said Adnan Meraj, Hong Kong-based co-head of Asia Pacific Syndication & Leveraged Finance at Bank of America Merrill Lynch. There's at least $9.2 billion of such financing in the pipeline, set to add to volume that's already up 25 percent this year, data compiled by Bloomberg show.
The sentiment is reminiscent of a decade ago, when borrowers held most of the bargaining power and yield-hungry lenders accepted less favorable terms. Still, leverage remains lower than in the U.S., and S&P Global Ratings says the amount of capital available in Asia means there's little chance of the LBO loan market slowing down.
"Rising leverage in the Asia Pacific region reflects the more aggressive behavior of lenders and is adding to risks as we approach the latter parts of the current credit cycle," said Paul Draffin, an analyst at S&P Global Ratings. "We are seeing evidence of late cycle behavior such as declining risk premiums, higher leverage and greater activity in the leveraged loans space."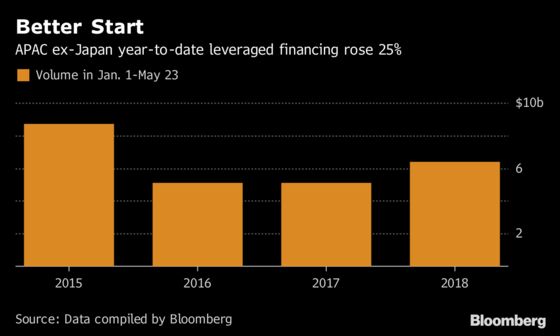 BofAML's Meraj expects the rising leverage trend in Asia to continue, while Standard Chartered Bank Plc said Australia is seen to be one of the more active acquisition-financing markets in the region this year along with Japan and Hong Kong.
"The bank market is now broadly comfortable in leveraging 5 times senior for sensible cash flow businesses and this reflects the leverage levels that prevailed back in 2007," said Singapore-based Lyndon Hsu, global head of leveraged finance and financing solutions business at Standard Chartered. "Debt leverage has been steadily increasing, more or less proportionately with rising asset acquisition multiples."
Leverage in Asia, or debt to earnings before interest, taxes, depreciation and amortization, is also still below levels prevalent in the U.S. According to Fitch Ratings, U.S. LBO leverage climbed to 6.4 times Ebitda until April from 6.2 times last year and 5.9 times in 2016.
Private equity firm Permira Holdings LLP's loan for its purchase of Australia's I-Med Radiology Network Ltd. saw strong appetite despite a leverage of about 4.5 times and the interest margin was cut by 25 basis points. The deal was heavily oversubscribed by 37 lenders with some commitments scaled back by about 80 percent.
Asian buyout firm Affinity Equity Partners' financing to back its acquisition of garment label-maker Trimco International Holdings Ltd. is offering an opening margin of 350 basis points over Libor at a leverage ratio of more than 5 times.
BofAML's Meraj said a spread of 300 basis points area over Libor is becoming more common, compared with the market norm of 400 basis points area earlier, with some deals seeing "two handle" margin as well.
One reason for the higher leverage could be the cash in the hands of private-equity players who have raised funds to target Asia-focused investments.
Earlier this month, Carlyle Group LP was reported to be close to raising $6.5 billion for a private equity fund in Asia, while Blackstone Group LP is said to have raised about $7 billion for an Asia-focused property fund in March. Chinese investment firm Hillhouse Capital Management was said to target to have raised about $6 billion in a new private equity fund in February.
"Sponsors have been raising a significant amount of capital for their Asia investments and are armed with a lot of dry powder. Not just international sponsors, but also regional investors with an Asia and China focused strategy," said Meraj, estimating such funds to total $150 billion to $200 billion.