Leon Black's Apollo Drubbed by Tough Markets in Fourth Quarter
(Bloomberg) -- Apollo Global Management LLC reported the biggest quarterly loss in eight years as volatile markets sapped the value of its holdings, especially annuity seller Athene Holding Ltd.
The private equity giant led by Leon Black posted an economic net income loss of $1.01 a share, exceeding the loss of 82 cents expected by analysts.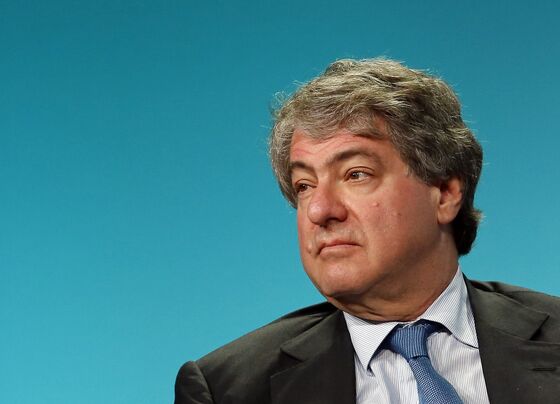 Athene, the largest asset on Apollo's balance sheet, hit earnings. It slid 23 percent in the fourth-quarter even as it followed through on a promise to do more deals. But there's still plenty of future upside for Apollo. The firm garners hefty management fees from Athene's more than $100 billion in assets.
Apollo's investment in ADT Inc. also curbed earnings. It took the security company public and has become its No. 1 equity shareholder. But the stock lost more half of its value last year.
Private equity firms are struggling to find enough deals given current valuations. That was reflected in the company's dry powder, or undeployed capital, which was flat at $48.5 billion compared to the previous quarter.
With stock markets volatile and returns lackluster, investor interest in private equity remains strong. Apollo's fee-related earnings surged, driven in part by increased advisory and transaction fees.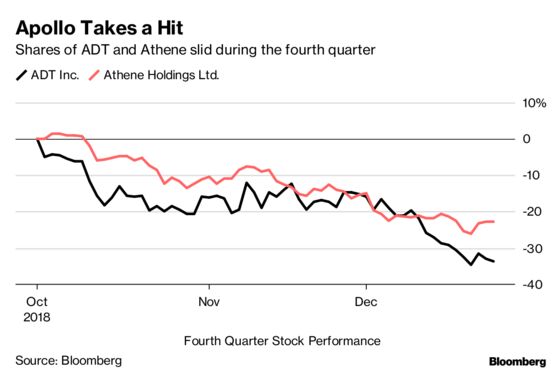 What Our Analyst Says...
Larger than expected mark-downs in PE portfolios led to lower performance fees and ENI.  Base fundamentals remained strong in 4Q; while unrealized under-performance should turn around with rising asset prices. 
--Paul Gulberg, Bloomberg Intelligence financial industry analyst
Fee-related earnings rose to 62 cents a share.
Private equity fund performance depreciated 10.9 percent.
Net inflows came in at $21.6 billion.
Total assets under management rose to $280.3 billion from $270.2 billion in the prior three-month period.