Lenovo's Revenue Beats Estimates as PC Arm Shows Signs of Life
(Bloomberg) -- Lenovo Group Ltd. posted its fastest pace of revenue growth in more than two years by pushing higher-priced computers and expanding its datacenter business in a stabilizing PC market.
The world's second-largest PC vendor reported a 69 percent plunge in net income to $33 million in the three months ended March as it grappled with rising expenses. Sales however jumped 11 percent to $10.6 billion, surpassing the $9.8 billion projected and marking its first double-digit percentage increase since late 2015.
Lenovo, which became the world's worst performing technology stock as its smartphones struggle for relevance and it loses ground to rivals such as HP Inc., has focused on burnishing the premium veneer of its bread-and-butter PCs while moving more deeply into the lucrative gaming segment. The company is trying to reverse the years of declining growth that got it kicked off Hong Kong's benchmark index this year.
The company's shares climbed as much as 4.4 percent after it released results. The stock is set to leave the Hang Seng Index next month after plunging 56 percent since it was added to the gauge in 2013.
"Lenovo managed to grow sales in PC as shipments went flat," said Qian Kai, an analyst with CICC. "The revival of the datacenter business is a good sign, but the size of this part remains small."
But "it remains unclear how they can maintain the momentum going while keeping product pricing at a reasonable range. It's interesting to see how Lenovo will balance margins and scale of shipments," he added.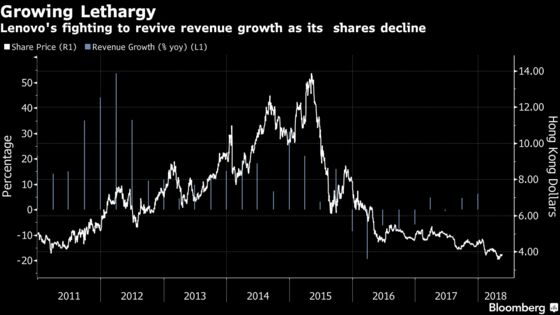 Revenue from PCs and devices climbed 16 percent to $7.7 billion in the quarter -- the highest in four years, Lenovo said in a statement. But higher costs, for instance of memory chips, pushed the division's profit 2 percent lower.
Lenovo continues to be weighed down by the poor performance of a subscale mobile segment despite an improved datacenter business, Johnathan Ritucci, an analyst with Bloomberg Intelligence, wrote ahead of the release. "Its U.S. PC franchise strategy also needs to be confronted quickly, as HP continues to gain segment share."
The company keeps pushing back the deadline to turn around the smartphone business, a mix of Lenovo and Motorola branded products. This month, the company merged its mobile and PC businesses under Chief Operating Officer Gianfranco Lanci, a Lenovo veteran who helped to build company's presence in Europe.
Chairman Yang Yuanqing counts on a turnaround kicking in by early 2019.
"We resumed double-digit revenue growth with strong profitability improvement," Yang said in a statement. "Lenovo has truly entered a new phase of growth."