No More Plastic Fantastic as Lego Toy Packaging Goes Green
After decades of relying on fossil fuels to make its plastic bricks, Lego A/S is taking a small step toward a greener future earlier than planned.
Europe's biggest toymaker may stop using plastic bags in the boxes that contain its bricks before a self-imposed 2025 deadline. It's part of a much more daunting project, already under way, to find sustainable materials for the almost 100,000 tons of plastic bricks that Lego produces each year.
For now, the shift to more climate friendly packaging is "going well even though we are at the trial stage," Chief Executive Officer Niels B. Christiansen said in an interview. "It's a long process with adjustments to many machines in our factories," but Lego is "well under way, and as a minimum you can say we are on schedule."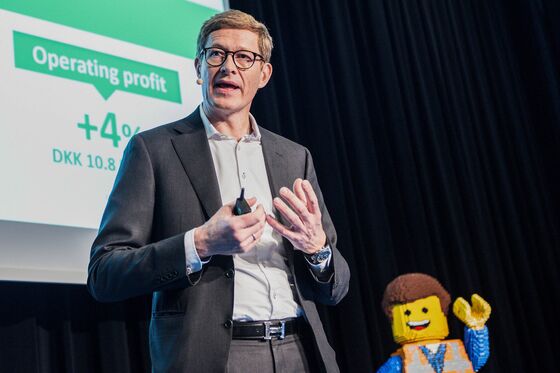 Lego wants to eventually stop using oil-based plastics in the iconic building blocks that have made it one of the world's best-known brands. The company has a team of 100 people dedicated to developing its green toys, and they need to make sure Lego has an environmentally friendly product it can put on store shelves by 2030.
By then, Lego's colorful building blocks will be made from sustainable materials such as sugar cane. But this transition is "much, much more complex" than just moving away from plastic bags, Christiansen said.
Lego has set aside $400 million to go green, though money isn't really a concern. "We are family owned and have a long-term view," Christiansen said.
The Kirk Kristiansen family that owns Lego has made a point of singling out green investments. Through its Kirkbi fund, which manages about $20 billion and is chaired by Kjeld Kirk Kristiansen -- the grandson of Lego's founder -- the family looks for sustainable ventures, such as its 2020 investment in Quantafuel, which converts almost all kinds of plastic into green fuel and chemicals.
"We need to develop a product that has all the characteristics of the current block," Christiansen said. "It needs to be durable and last many, many years; it needs to be safe so it's not sharp if it breaks off; it needs to be able to withstand different temperatures; it needs to be chemically safe, just to name some."
Last year, when a lot of businesses went bust in the face of the pandemic, Lego delivered record sales and profit. The company says the result is proof of the "timelessness" of its toy bricks, as products for all age groups flew off its shelves.
Meanwhile, Lego is trying to stay relevant to a new generation of kids largely raised on virtual forms of entertainment. But that's not all that distinguishes them from previous generations, Christiansen says.
"The feedback we get from our customers is very clear," and "the younger kids are, the more direct they are with their views on the green transition and sustainability," he said. "It's very interesting to witness."
The Lego CEO says he personally gets "letters and emails from children" worried about the environment. Some of the kids who contact Christiansen have suggestions as to how Lego might move away from plastic, he said.
For now, Lego has managed to produce 100 building blocks from sustainable materials, Christiansen said. "We're making progress and investing heavily."
Read more about Lego's green goals...
Lego is on track to achieve carbon neutral manufacturing by next year, according to its 2020 Sustainability Report.
The company in December announced it has a Science Based Target, which commits it to reduce absolute carbon emissions by 37% by 2032. The initiative is consistent with levels required to keep global warming to below 1.5 Degrees Celsius, the most ambitious goal of the Paris Agreement.
Lego's emissions goal covers those that come from its own operations, which account for about 10%, as well as the supply chain including raw materials and transport, which is the remaining dominant factor.
The company is already "balanced" in terms of its energy supplies. It produces the same or more renewable energy than it consumes at its sites.