Left Behind by Trump's Boom: The Rural Americans Who Elected Him
(Bloomberg) -- Tiffany Hensley's drive home takes her through some picturesque scenery, and an ugly economy.
"The first thing you see when you get down here is beauty," says Hensley, midway through her shift at a diner in the rolling hills of eastern Kentucky. "But then you get to looking around. It's real rough.''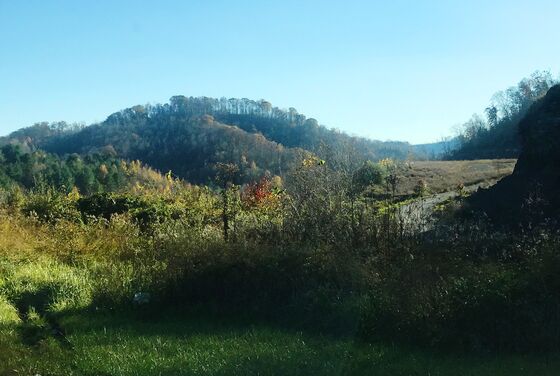 Times are tough all across rural America. Nationwide numbers paint a rosy picture of accelerating growth and near-full employment. Swaths of the countryside tell a different story, its protagonists barely scraping by as their jobs drain away in the downturns and don't come back in the booms.
The economic divide maps onto a political one, which only deepened in this month's midterm elections. President Donald Trump claims credit for a vibrant economy. Yet it's in the least-vibrant rural areas that his Republicans picked up support -- the same trend that helped Trump get elected two years ago. Cities and suburbs, where the recovery is palpable, swung toward the Democrats.
Economics isn't the only driver of those outcomes, analysts say, and many cite attitudes to race and immigration in white rural areas. Still, the countryside is getting left behind and the gap has widened since 2008, according to Kenan Fikri, director of research at the Washington-based Economic Innovation Group.
The recession hit most regions equally but "their recovery was wildly different,'' he says. "Where the jobs came back doesn't align to where they disappeared.''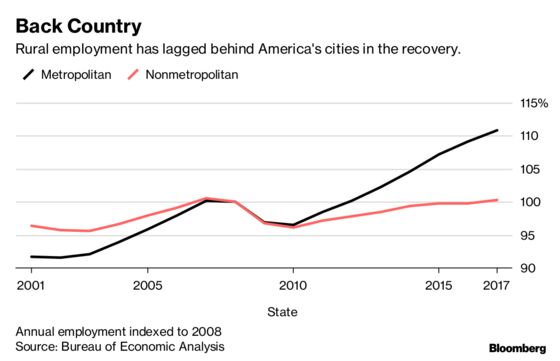 In Clay County, Kentucky, unemployment is almost double the national rate. After almost 11 years at the diner, Hensley reckons her job there -- working shifts of up to 12 hours, six days a week -- remains the best she can get.
It pays $1,200 a month. The first biweekly check covers rent on her apartment, the second bills. She feeds her family out of tips and about $300 a month in food stamps (two-fifths of Clay County's population rely on them). Hensley, who's 30, is seven months pregnant and won't get paid maternity leave, so she's planning to take just four weeks off –- as she did with her previous five children. That took a toll on her health, she says, but "a month is a long time when you ain't got nothing. You never get to sleep peaceful at night.''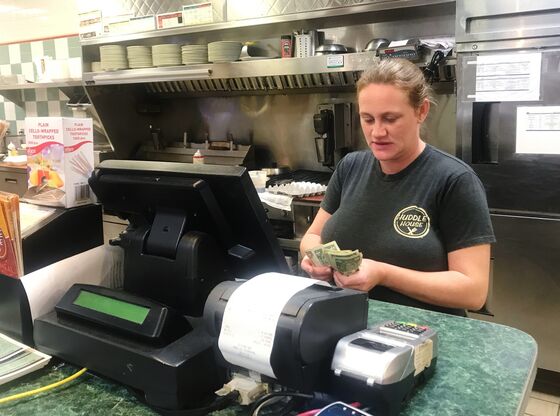 America's rural landscape is dotted with reminders of where the jobs used to be. In Clay County, it's empty smokestacks, fossils of a vanished coal economy.
The county lost some 500 mining positions in the past seven years, says its judge executive, Johnny Johnson. Trump's rollback of environmental rules has delivered about 150 coal jobs across all of eastern Kentucky, he says.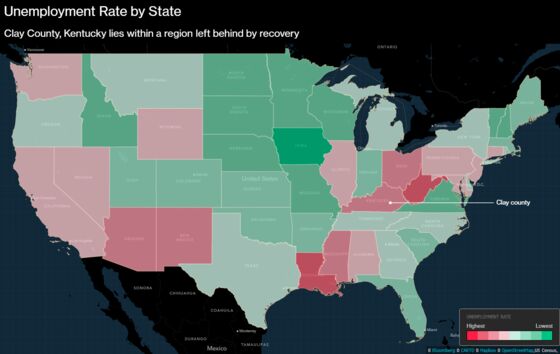 A former coal man himself, Johnson acknowledges that the industry "will never be like it used to be.'' He remains supportive of the president -- "Donald Trump does not have a magic wand'' -– and on the lookout for other potential employers. He's currently trying to persuade a plywood factory to come to the area, bringing 100 jobs, and has hopes of setting up a vocational school.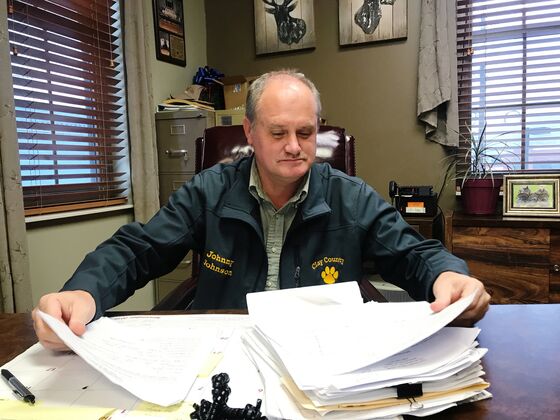 Johnson is also working with Kentucky legislators, including Senate Majority Leader Mitch McConnell, to get $10 million of federal cash to fix damaged bridges –- in the hope that better infrastructure will attract business. Neighboring Laurel County has bounced back faster, helped by the hotels, retailers and restaurants off Interstate 75.
Federal money rescued rural America after the Great Depression of the 1930s, as the government poured resources into job-creating investments. Today, Washington's main presence in places like Clay County is the U.S. Department of Agriculture. It helps with everything from building houses to providing medical services. Clay County got a $50,000 grant this year for an ambulance, an urgent need in a region blighted by opioid addiction.
The agency also helped bring wireless Internet to remote areas. That creates opportunities for people to "make good wages from their home,'' said Anne Hazlett, the USDA's assistant to the secretary for rural development.
But the Trump administration plans to cut USDA funding by 16 percent in fiscal 2019, and revamp the food stamps it distributes.
In Clay County, that's Karrie Gay's job, as supervisor of family support and social services. She sees some 40 clients a day, many complaining about frozen benefits. Her office is already down two people, and will only replace one because of a state hiring freeze.
Cuts to food stamps would be "catastrophic,'' says Gay. "We have a lot of clients who have no income. That's their only source of food.''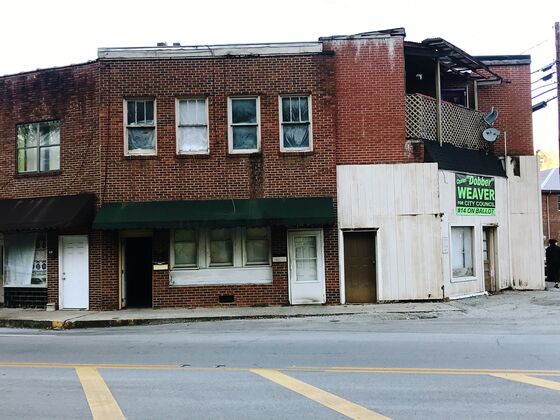 Even if such policies hurt the countryside, they won't necessarily dent Trump's support there, according to David Andersen, a political scientist at Iowa State University.
Clay County delivered an 87 percent vote for Trump in 2016, and this month helped send Republican Hal Rogers back to Congress for a 20th term with almost 80 percent of the county's ballots.
A lot of Trump's rural supporters "don't sound as if they expect to get anything out of the administration,'' says Andersen. Feeling abandoned, they just want to "destroy the system overall,'' he says -– and Trump was "the first candidate in a very long time'' to explicitly feed such resentments.
Not everyone has given up on the area. Vanda Rice, who lives in the county seat of Manchester, has founded Stay in Clay, an organization that's trying to create opportunities locally.
"To sit back and say, 'Well, there's not a thing I can do' -- that's just a bunch of bologna," says Rice. She's promoting the county as a hiking destination and launched a bluegrass music festival.
Hensley can only see a brighter future if she can somehow get out. She hopes one day to buy a plot of land so her children can have a backyard. But not in Clay County.
"This ain't a good place to raise kids,'' she says. "There's good places out of here. But I ain't run into one yet.''