Wildfire Forces Evacuation of High-Priced L.A. Neighborhoods
(Bloomberg) -- A fast-paced brush fire has forced evacuation of some of the ritziest neighborhoods in the Los Angeles area and shut a major thoroughfare as high winds wreak havoc in California.
The areas being evacuated stretch from Mulholland Drive south to the Pacific Ocean and east to the 405 Freeway, an area with about 20,000 residents, according to a spokesman with the Los Angeles Fire Department. The Getty Fire, now covering more than 618 acres, erupted at 1:34 a.m. local time on Monday in an area managed by the Los Angeles Department of Water and Power.
The freeway, a major commuter route that cuts through the L.A. area, has been shut southbound to Interstate 10, Mayor Eric Garcetti said Monday in a news conference. One of the areas of investigation into the start of the fire includes a downed power pole, Garcetti said.
The investigation is in early stages and it's premature to determine whether the downed pole was a cause or a casualty of the fire, according to Los Angeles Fire Department spokesman Brian Humphrey.
"We just don't have a definitive answer," Humphrey said. "Our focus right now is getting people back in their homes."
Michael Ventre, a spokesman for LADWP, referred questions about an investigation to the fire department. LADWP, unlike other utilities, doesn't cut off power during high wind events, according to an Oct. 9 press release.
Meanwhile, a neighboring utility, Edison International, has shut off power to almost 25,000 homes and businesses and is considering 350,000 more blackouts, largely in Los Angeles and Ventura counties.
Councilman Paul Koretz, whose district is impacted, had a stark message for residents who received an evacuation warning. "Don't be an idiot," he said during the news conference. "Get the hell out of there."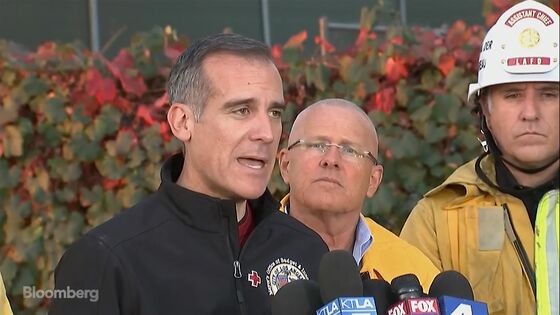 The Getty Center museum -- an L.A. landmark that overlooks the freeway and the city from its perch near the top of the Santa Monica Mountains -- is just inside the evacuation area, but has been spared damage from the fire, according to a Twitter post. It is closed on Monday.
In L.A., the mandatory evacuation zone includes the seaside community of Pacific Palisades and parts of Brentwood, once home to O.J. Simpson. The mandatory evacuations affected residents including Los Angeles Lakers basketball star LeBron James, who said he struggled to find housing for his family immediately after the order to leave.
Mulholland Drive meanders through the Santa Monica Mountains, with the homes of celebrities and other wealthy people on side streets nearby. The evacuation zone includes more than 10,000 structures, fire officials said. Eight homes have been lost in the fire, and five were damaged, Garcetti said.
California Governor Gavin Newsom on Monday said the state is getting federal assistance to help fight the Getty fire as part of a statewide emergency.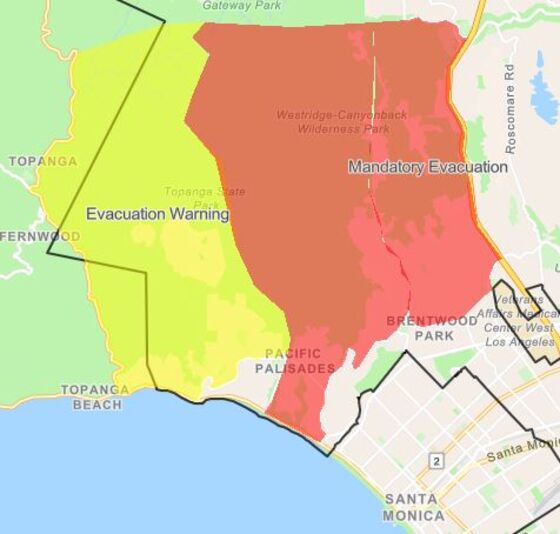 Dry winds will whip California's fire-scarred landscape through at least Thursday with little letup in the interim, according to Marc Chenard, a senior branch forecaster with the U.S. Weather Prediction Center in College Park, Maryland.
In Southern California conditions "should be gradually improving today and tonight, but the next event Tuesday night into Thursday could be worse than the current one," Chenard said.
Closed Monday as a result of the fire:
University of California, Los Angeles
Santa Monica College
Los Angeles Unified School District, 20 schools
Santa Monica and Malibu Unified School District, all schools
Skirball Cultural Center