Lebanese Billionaire and Top Bank Accused of Illicit Gains
(Bloomberg) -- A state prosecutor accused former prime minister Najib Mikati -- Lebanon's richest man -- and the country's biggest bank of making illicit gains from a subsidized housing program, in the first corruption case filed since anti-government protesters took to the streets a week ago.
The lawmaker, his brother Taha and his son Maher, as well as Bank Audi, are alleged to have illegally benefited from loans subsidized by the central bank to help ordinary families buy their own home, the state-owned National News Agency said.
The illicit gains law in Lebanon criminalizes profits made through bribes or abuse of public office. The case against Mikati marks the first time it has ever been implemented, according to monitoring group Legal Agenda.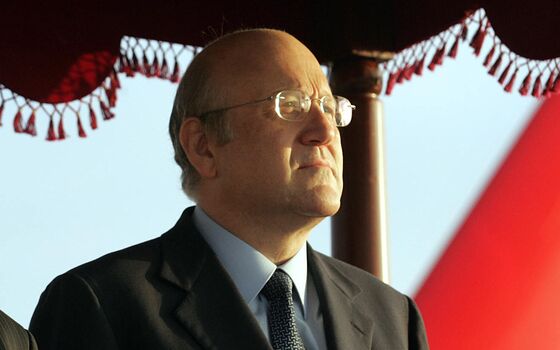 Hundreds of thousands of Lebanese have filled the streets nationwide in the past week, taking aim at a political elite they blame for entrenched corruption and worsening living conditions. The government presented an emergency reform plan Monday to avert financial crisis and appease the public, but the move has failed to quell the revolt.
Bank Audi said it complies with the law and denied playing a role in any scheme to reap illicit gains, according to a statement.
Mikati, whose fortune is estimated at $2.5 billion by Forbes magazine, said he was ready to face any legal proceedings and open his books to scrutiny. He said the charges against him were politically-motivated and instigated by President Michel Aoun.
"There is nothing hidden," he said.
The Mikati family had taken loans to buy two apartments under a central bank program that aimed to encourage investment spending by capping the interest rates charged by commercial banks at 6%, his office said. The purchases were made prior to the introduction in 2013 of the central bank-subsidized loan program that was managed through the Public Housing Institution and was valid only for properties worth $500,000 or less.
"The above explains clearly that the Mikati Family has contracted a traditional commercial residential loan that has nothing to do with the subsidized loans in Lebanese Pounds allocated to people with low income," his office told Bloomberg.
Mikati and his billionaire brother -- the two wealthiest men in Lebanon -- co-founded the Beirut-based firm M1 Group, which has investments in telecommunications companies in South Africa, and other holdings in Monaco, London and New York.
They hail from Tripoli, which has some of the country's highest poverty rates, and has witnessed some of the biggest protests.