Lawsuit Risks May Prompt Czechs to Delay Costly Nuclear Plan
(Bloomberg) -- The Czech government may postpone its decision on whether to force utility CEZ AS into an unprofitable multi-billion-dollar construction of new reactors as it looks how to avoid lawsuits from minority shareholders.
The central European country is evaluating multiple options to finance and build new nuclear units to help phase out coal-burning plants and reduce carbon emissions, according to Industry and Trade Minister Marta Novakova. She said one possibility is to delay the start of the country's biggest infrastructure project ever, which is already attracting interest from companies in Russia, the U.S. and China, and instead extend the lifespan of the Soviet-built Dukovany nuclear station.
"The decision about building nuclear units can't be done under pressure and we don't want to be put under pressure from suppliers or other entities," Novakova, 63, said in an interview in Prague last week. "The Finance Ministry is also analyzing the risk of potential court disputes."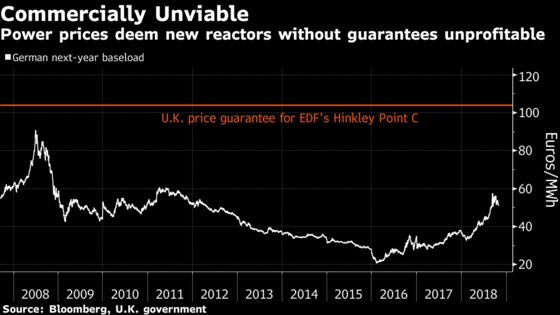 The Czech Republic is betting on atomic energy, which now accounts for about 40 percent of its power output, as neighboring Germany pushes renewable sources to replace both coal and nuclear power. Minority shareholders of eastern Europe's largest traded power producer have said saddling CEZ with the cost of nuclear expansion would wipe out its profits and dividends.
The government says new reactors will be needed to protect energy security. While gas-fired facilities are cheaper to build, they expose the country to swings in gas prices and increase dependence on imports, according to Novakova.
Prime Minister Andrej Babis has argued that CEZ, which is 70 percent state-owned, can afford to build at least one more unit at Dukovany with the state providing only a loan guarantee. CEZ management is against, saying the cost of one reactor would be at least 150 billion koruna ($6.6 billion), or about half of the company's market capitalization.
Michal Snobr, who represents a group of activist shareholders, considers it "practically and legally impossible" to force the company to make a "self-destructive" investment. CEZ Chief Financial Officer Martin Novak has said new atomic facilities must be built by a fully state-owned entity to avoid lawsuits from minority owners.
The industry minister said she is working with lawyers, as well as with Babis and Finance Minister Alena Schillerova, to find a solution addressing the legal pitfalls and minimizing the cost for the state. The government is commissioning additional feasibility analyses and is scheduled to announce it's preferred course by the end of 2018.
"We realize there is a real risk of personal legal liability not just for CEZ management but also for the prime minister, myself, and the finance minister," said Novakova. "We obviously hope to find a model for the construction of new reactors that would eliminate those risks."
CEZ shares have plunged by almost a quarter over the past decade, underperforming their European peers over concern that the utility might have to shoulder the cost of the project. After Novakova's comments, the stock rallied the most in seven weeks after Novakova's comments were published on Monday, gaining 3.1 percent to 541 koruna at the end of trading.
Babis has refused to provide U.K.-style guarantees for new nuclear facilities because they would merely pass on potential losses to the consumers or the government. He has also rejected a proposal to split CEZ into a fully state-owned company with coal and nuclear assets, which would build reactors, and a publicly traded entity focusing on distribution and renewable energy.
"Buying out minority shareholders in CEZ is the most expensive option, and, based on the debates we're having, I would say the least preferred," said Novakova. "It's obvious that the government wants to minimize the guarantees it will provide, and would rather push CEZ to at least participate in the financing of the project."
The whole discussion revolves around the cost of borrowing as the state can raise money "significantly cheaper" than a private company, according to the minister. Extending Dukovany's lifespan beyond the current expiration date of 2035 is possible, she said, and the government could make the decision on its replacement later, depending on energy market trends and new technologies, including so-called pocket reactors.
"If we want to keep reducing carbon-dioxide emissions, nuclear power stations must remain part of our energy mix -- we can't meet the targets without nuclear energy," said Novakova. "Generally, I think discussions about whether or not we should build reactors are irrelevant. Rather, the question is when, where, and how many."