Latin America's Winners and Losers in U.S. Vote: Election Guide
(Bloomberg) -- Mexican cement companies, Brazilian steelmakers and one of the world's largest lithium producers are some of the Latin American stocks whose outlook is tied in part to the outcome of the U.S. election next week.
While a contested outcome between Democrat Joe Biden and Republican Donald Trump would likely be the worst-case scenario for battered Latin American stocks, investors are monitoring the odds of the winning party also gaining control of the House and Senate. That is seen as boosting the likelihood of further fiscal stimulus.
The potential for a less confrontational approach to external policy under a Biden government might encourage Mexico investors. For Brazil though, a Democratic sweep may add some pressure on President Jair Bolsonaro in regards to his environmental policies, while the region as a whole could get a boost from a large infrastructure package in the U.S, which could propel demand for commodities.
Recent moves indicate that Mexican stocks have been pricing in Biden's rise in the polls, according to AllianceBernstein portfolio manager Morgan Harting. "Results could either validate the recent rally and fuel further positive momentum" in Mexico, "or it could be a vulnerability if Trump defies recent polls and prediction markets," he said.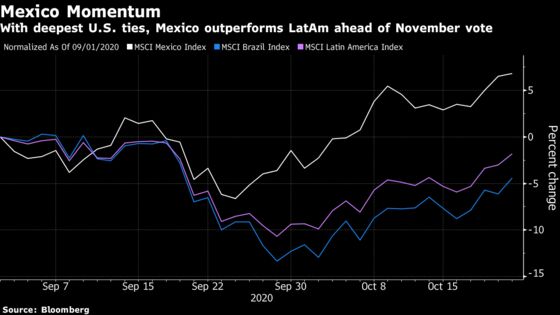 Here's what to watch ahead of the vote (all percentages mentioned are year-to-date performances):
Top U.S. cement supplier Cemex SAB (+21%) is favored to be a winner under a Democratic sweep that will boost chances a long-promised infrastructure plan will finally materialize, said BTG Pactual analyst Gordon Lee. Grupo Cementos Chihuahua SAB (+6%), an even more U.S.-centric cement maker, and Colombia's Cementos Argos SA (-37%) could also react.
A risk-on reaction to the election may add fuel to Mexico's more liquid plays, like bank Grupo Financiero Banorte SAB (-12%), which has gained 27% from a late-September low as Biden solidified gains.
A unified government under Trump or Biden would increase the likelihood of more fiscal stimulus, according to Morgan Stanley, which would be positive for stocks leveraged to global growth.
That scenario should benefit commodity names such as the world's largest iron ore producer Vale SA (+19%), Brazilian steelmaker Gerdau SA (+16%) and Mexican mining firm Grupo Mexico SAB (+21%), strategists led by Guilherme Paiva wrote in a note dated Oct. 6.
JPMorgan strategist Pedro Martins also noted that Brazilian materials have one of the highest correlations to their U.S. counterparts among emerging-market country sectors.
Chile's Soc. Quimica y Minera de Chile SA (+40%), the world's second-largest producer of lithium -- a key component for batteries powering electric vehicles -- could benefit from improved electric cars demand under a Biden win, according to Leopoldo Silva, an analyst at Santiago-based broker LarrainVial.
A gradual transition to renewable energy was cited by the Democratic candidate in the final presidential debate, including the goal of "putting charging stations along every highway." Another beneficiary could be Brazilian electric-motor maker WEG SA (+136%), which is leading gains on the Ibovespa index this year.
E-commerce retailers, software makers and other rapidly-expanding firms such as B2W Cia Digital (+38%) and Totvs SA (+32%) have also been top gainers on Brazil's Ibovespa this year, amid gains in global tech stocks. A Republican win could signal continuity in terms of policies including tax cuts and deregulation, which is positive for growth and technology names across the region, according to Malcolm Dorson, a money manager at Mirae Asset Global Investments in New York.
Investors looking for safe havens amid election jitters may want to bet on real estate, consumer staples and utilities, according to Bank of America. Some defensive stocks with lower sensitivity to global swings include food retailer Carrefour Brasil (-14%), telecom firm Telefonica Brasil SA (-24%) corn miller and tortilla maker Gruma SAB (+22%) and utility (-11%).