The Sun Is Starting to Set on Magaluf
(Bloomberg) -- The party's nearly over for a brand that became a by-word in Britain for booze-fueled fun in the Spanish sun.
The last flight carrying Club 18-30 holidaymakers takes off for Magaluf this weekend. The fully booked jet leaves Manchester on Saturday carrying young clubbers for a final three days of revels as Majorca's summer season draws to a close. Travel company Thomas Cook says it will be the swan song for a tradition of excess that dates back more than five decades.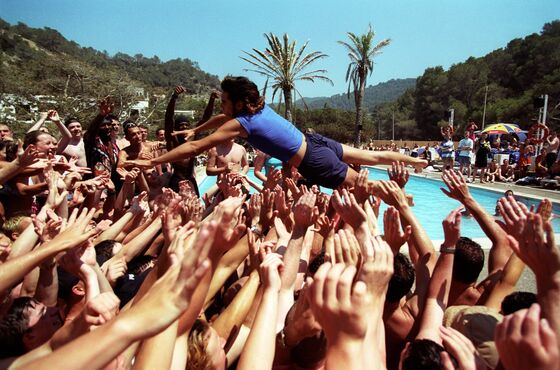 The demise is one more sign of how companies are responding to the age of the millennials. Social media is also shaping tourism trends as travelers seek destinations and experiences that look good on their Instagram accounts. For Spain, the world's number two visitor destination after France, new fashions present both a challenge and opportunity.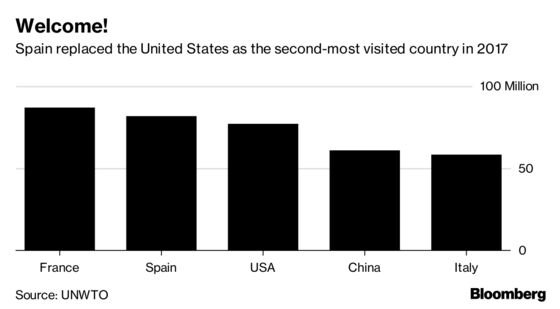 "We're seeing real change already," Alfonso Rodriguez, mayor of Calvia, a municipality that includes Magaluf, since 2015, said in an interview this week. "We want to move away from the excess of the past and diversify our business model. It can't just be about getting drunk and partying."
For Londoner Sinead Lambe, 25, a holiday to the Greek island of Zante in 2012 was one of her first experiences abroad with friends and no parents. It was entertaining but not one she would now want to repeat.
"For my generation, drinking was part of the culture and the idea of a raucous holiday," said Lambe. "But things have changed. More has to be on offer than a night out at a cheap bar."
Club 18-30 emerged in the mid-1960s to target young Britons seeking affordable party holidays in the sun. For original owners Horizon Group, it was also a way to fill unused seats on night flights to tourist destinations.
The 1990s heyday saw more than 100,000 customers a year, with destinations from Bulgaria to Corfu, Ibiza and Cyprus. Thomas Cook took over the brand in 1998.
But now, authorities in Magaluf are now striving to lay on a classier experience by clamping down on party boats and excessive revelry in bars and putting more police on the streets.
In Punta Ballena, a neon-lit promenade where British-style pubs such as The Three Lions sit alongside fish and chip and kebab shops, some even question the business model up to now.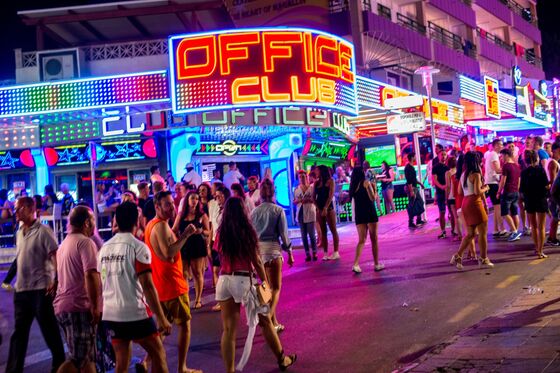 For Juan Palerm, who runs a restaurant close to the party zone, going upscale offers a chance to clean up the reputation for excess detailed all too often in the pages of the British tabloid press and reality TV shows.
"I've been here since 1997 so I've seen it all," he said. "The reality is you can't just compete through cheap alcohol to see who can fill up a place for less money. Ultimately, this kills business."
As the curtain comes down on the Club 18-30 story, Thomas Cook is promoting a new type of holiday experience. The advertising blurb for its new "Cook's Club" brand offers a "melting pot of cultures, textures and flavors that creates a casually cool paradise."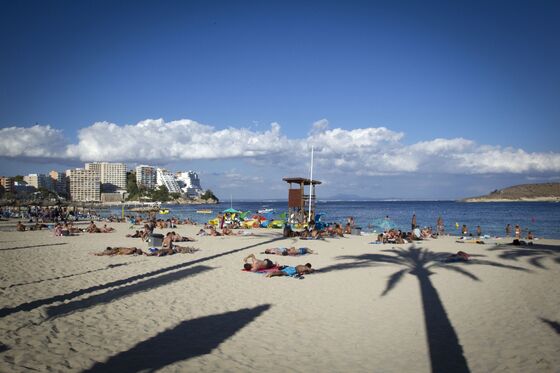 "Gone are the days of booze cruise by day and foam party by night and in their place is a quest for local experiences adventure," Remo Masala, creative director for Thomas Cook, said in emailed responses to questions.
Shifting holiday patterns also mean much is at stake for Spain, which had 82 million foreign visitors last year. Tourism accounts for about 11 percent of gross domestic product.
"Destinations have tolerated unacceptable behavior for short-term financial gain which they have always later regretted," said Dimitrios Buhalis, head of the Department of Tourism & Hospitality at Bournemouth University. "With social media, where live videos can go viral and get discussed globally, there is more transparency, and unacceptable behavior is increasingly held to account."