Lasers Are Cool But Their Stocks Can't Seem to Catch a Break
(Bloomberg) -- Laser stocks suffered another setback Friday when disappointing preliminary earnings from IPG Photonics Corp. sent the whole sector spinning.
IPG blamed a "challenging" geopolitical environment stoked by tariffs and the U.S. trade war with China. With IPG's peers not scheduled to report quarterly results for weeks, uncertainty and weak share prices could stick around through the end of October.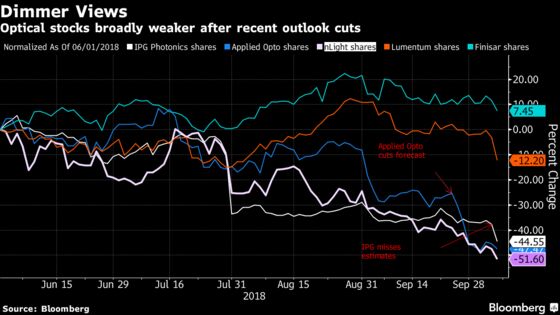 IPG plunged 11 percent in New York, while peers Coherent Inc. and Lumentum Holdings Inc. fell at least 7 percent and were among the worst performers in the S&P Midcap Information Technology Index. The newest laser player, nLight Inc., slid as much as 12 percent to its lowest price since it began trading in April under the apt ticker LASR. The stock has seen a staggering reversal after climbing 150 percent in the months after its initial public offering.
Friday's slump follows a rough summer for laser stocks -- and optical components more broadly -- amid concerns about tariffs and pricing pressure. Applied Optoelectronics Inc. cut its revenue expectations by a third last week.