After Earthquakes and Volcanoes, Chile Is Threatened by New Natural Disaster
(Bloomberg) -- Chile, scene of the world's largest-ever earthquake and some of its most active volcanoes, is learning to live with a disaster that is getting worse every summer.
This season, 4,645 fires have destroyed 59,122 hectares (146,000 acres) of woodland, destroying more than 50 homes, killing three and leaving dozens injured or homeless. The flames hit a hill in the center of Santiago last night forcing the partial evacuation of a zoo, while the mountains to the west of the city glowed red and smoke billowed across the main highway to the coast.
The Latin American nation is no stranger to natural disasters. A 4,270 kilometer-long slither of land along a geological fault-line, Chile had 352 sizable tremors in 2018, a relatively quiet year by its standards. Repeated quakes, volcanoes, landslides, fires and floods mean the government has spent $8 billion on disaster relief in the past decade, a heavy burden for such a small country. Now climate change and a growing forestry sector are forcing the government to pour more resources into fire-fighting.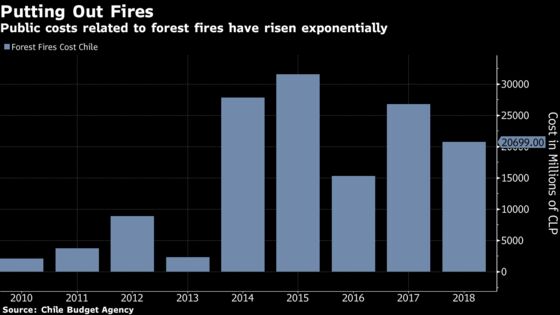 "There is a financial and economic cost to these fires, and the investment of resources into combating this problem is important," said Andres Fuentes, a professor at the Technical University of Federico Santa Maria in Chile. "There needs to be more resources for prevention of fires and protection of infrastructure and the population."
The wildfires, which forced President Sebastian Pinera to decree natural catastrophes in three regions, have become a regular feature of the daily news bulletins and no drive to the south of capital Santiago is free from the tell-tale plumes of smoke in the distance.
Yet, the country can count itself lucky compared with the 2016-17 season, when 570,000 hectares of land went up in flames, equivalent to about three quarters of the area California lost to wildfires last year.
Wildfires have been naturally present in Chile for centuries, but are growing larger and more intense.
In research released last year, Montana State University researcher David McWethy said a drier and warmer climate in the central region and the growth of forestry plantations is creating a recipe for disaster. Chile exported a record $6.8 billion of timber products in 2018, according to the Ministry of Agriculture.
"This situation will likely facilitate future fires to spread more easily and promote more large fires," McWethy said.
Temperatures across central-southern Chile have consistently set records in the past three years, prolonging a decade-long drought in parts of the country. To make matters worse, dry electric thunderstorms along the Andes mountains have increased, according to the national forestry agency.
The wildfires are adding to the sense of insecurity in Chile. Beaches have tsunami-evacuation routes, many towns have volcano-warning signs, national parks advise on fire risks and everyone has an earthquake story to tell.
The biggest recorded quake occurred in southern Chile in 1960, measuring about 9.5 on the Richter scale. That compares with the San Francisco earthquake of 1906 that measured 7.9.
The government is being forced to take action about the wildfires. Air tankers -- giant passenger jets converted to water carriers -- are regularly operating in the south, along with a flotilla of smaller planes and helicopters. Companies have also been implementing their own risk-mitigation measures, said Fuentes.
"This disaster has a major cost for the country," Fuentes said. "It's not just about the number of fires, which are increasing, but about the amount of acres burned, the people affected and the homes damaged."