Lamborghinis at Crypto Confab Give Way to Talks on Shorting
(Bloomberg) -- The guy in the llama costume identified himself as LamboLlama, also his Twitter handle, a reference to a time when Lamborghinis were a joking meme about the cryptocurrency industry, representing some of the material aspirations of investors and the speed with which it all seemed to be happening.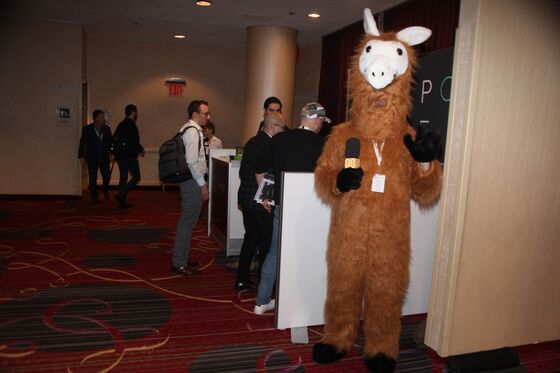 But the outfit and moniker were mostly an aberration at the Consensus: Invest Conference held Tuesday at a New York hotel. The price of Bitcoin has slumped 80 percent in less than a year, removing about $700 billion from cryptocurrency markets and much of the exuberance.
Instead, the scene-stealer was Jay Clayton, head of the Securities Exchange Commission, who in remarks at the most attended session of the day reiterated that Bitcoin wasn't a security. The price of Bitcoin rose.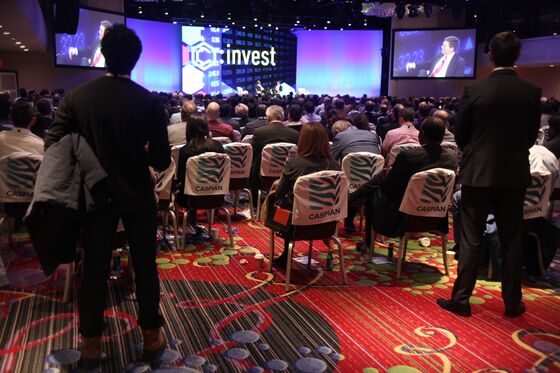 Slow and steady was the mantra of this year's event. Attendees got down to business, focusing on the nitty-gritty, nerdier infrastructure and tech sides of the industry.
"Lambo was Bitcoin at 20,000, this is Bitcoin at 4,000," said Dave Hamilton, head of business development at artificial intelligence broker AiX, at the party thrown by Ledger.
"The session on accounting was standing room only," added Rumi Morales, a partner at Outlier Ventures, as a jazz trio played a holiday tune. "Everyone was talking about custodians."
To be sure, most everyone would like to see the price of Bitcoin go up. But the ups and downs are to be expected.
"You have hype cycles through the development of any new technology," said Glenn Hutchins, co-founder of Silver Lake, standing on the sidelines before interviewing Clayton.
"The people who are in this for the long haul are so committed to it, they eat, sleep and breathe this, they're really not as shaken by it," said Pat McEvoy of Cannacord Genuity. "Also, to be fair, I think a lot of these people made a lot of money in Bitcoin and Ethereum. Even if they still own it, a lot of those original adopters, it has changed their lives. It's all relative. It hurts that prices have fallen, but they're probably still up a thousand percent from where they originally bought it."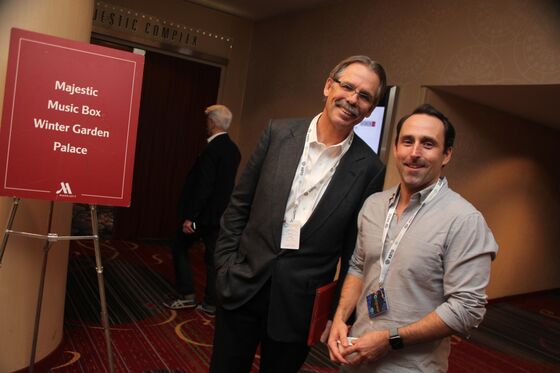 Dan Morehead of Pantera Capital described his position as a "multi-decade trade" during a panel. He was followed by a presenter who talked about shorting Bitcoin -- "a sign of the times," Morehead said.
The gap between the price and the perception is wider than Morehead's ever seen. "The underlying fundamentals are actually very positive," he said.
The conference's quality "has been much better, there are more legitimate players, it's not people trying to figure out how to get into it," said John Tornatore, global head of cryptocurrencies at Cboe Global Markets.
Grayscale Investment's Michael Sonnenshein was all about the growth of his company this year, with more than $350 million in assets raised. "A lot of our clients are here. They're engaged."
Grayscale's bash Monday night was a "traditional cocktail party," Sonnenshein said. It took place at Harding's, a speakeasy near the firm's office. "Not on a boat," he said, referring to a party in May on a rented yacht held during the larger, retail-oriented Consensus conference.
Those creating things for the crypto world were offering as much of a positive outlook as they could.
"We're focused on technology, we don't care so much about the price," said Pascal Gauthier, president of Ledger. "If price goes down, we have more time to work on the product. It's about building a company." A slowdown, he said, allows them to "focus on the details. You start getting ready for the next boom."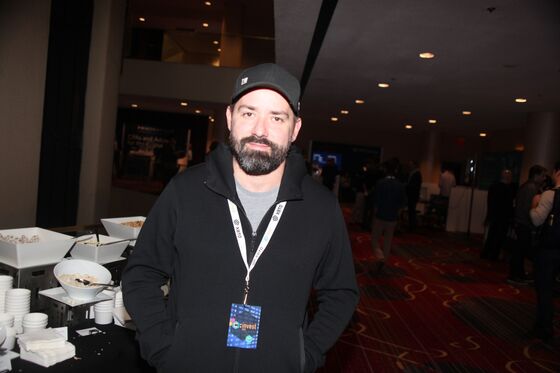 To that point, Ledger has recently opened offices in Hong Kong and New York, which was the official reason for throwing a party on a balcony at the Chatwal Hotel.
Some of the most fervent attendees at the conference were early-stage entrepreneurs.
Oni Kabir, 41, and Cheng Peng, 25, are in the "stealth" phase of creating a hedge fund "using proven quantitative strategies in equity and futures markets toward crypto," Kabir said. He hadn't come to the conference for meetings as much as "validation of the market as a whole" and said he was pleased with what he'd encountered.
Diego Czul and Jeremy Adler, both 31 years old and of Montreal, are developing a digital-assets platform called Crypto Terminal. On Monday, they left a gathering at the Rum House by 8 p.m. so they could turn in and be at the conference at 7 a.m. Tuesday to start meetings.
"I hate the lambo thing," said Czul, an engineer. "I'm allergic to hype."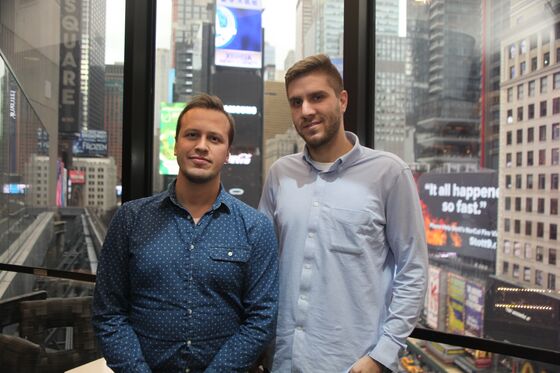 That got Adler on the topic of initial coin offerings shutting down. "This is the best thing to happen to crypto," Adler said. "It's like giving chemotherapy to crypto -- you kill some good cells but you get rid of the cancer."
As for those outrageous parties:
"I had my fun," said Joshua Chinnaswamy, 25, a vice president of investor services at Quantreq. He was at the Ledger party wearing a suit and holding a glass of red wine, noting he'd skipped a fete at The Box on Monday night.
"The industry is taking steps toward maturity," he said. "It's going to take a while but it's going to happen sooner or later."