Chip Equipment Earnings Season Starts Today
(Bloomberg) -- Lam Research Corp. will be the first semiconductor equipment maker to report earnings on Tuesday and Wall Street is cautious.
Lower spending from makers of memory chips due to elevated inventories has reduced estimates for equipment sales next year and a recovery isn't likely until the second half of 2019, according to Evercore ISI analyst C.J. Muse. Makers of machinery used in the production of semiconductors have benefited from a chip boom in the last few years but their stock prices have fallen in 2018 as customers have reduced spending.
"We see a material reset" coming for companies such as Lam Research, Applied Materials Inc. and KLA-Tencor Corp., Muse wrote in a note on Monday.
Applied Materials, the world's biggest chip equipment maker, has tumbled 45 percent since a record high in March. That's been a source of concern for investors in the broader chip industry given that orders for the expensive gear have historically been a leading indicator for the whole electronics supply chain. The broader Philadelphia Semiconductor Index is down 13 percent from a March record.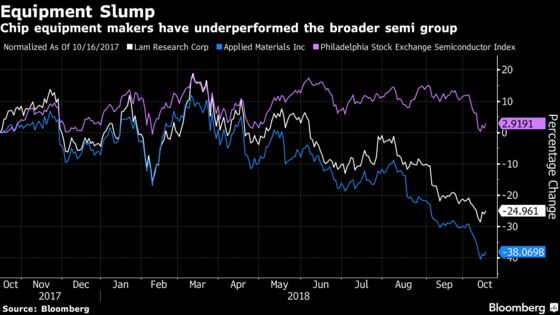 In a research note on Tuesday, Stifel analyst Patrick J. Ho said Lam Research's recent sell-off looks overdone. He expects the company's comments will set the tone for earnings season and could potentially trigger a "relief rally" for the group if they're not as bad as current sentiment. Shares of Lam Research rose 1.3 percent at 10:48 a.m. in New York amid a broad market rebound.
B. Riley FBR analyst Craig Ellis expects Lam Research to report fiscal first-quarter results that are in-line with Wall Street estimates but says second-quarter forecasts could fall short given risks for further weakness in the memory market.
"We brace for memory sentiment souring further" into 2019 before a rebound in the second half of the year, said Ellis, who like Evercore's Muse remains bullish on Lam Research and other equipment makers in the long-term.
Morgan Stanley isn't expecting any big surprises in the report. Comments on spending for memory equipment and details about the company's less cyclical "installed base" business are likely to be key topics of discussion on the earnings call, analyst Joseph Moore wrote.
Lam Research and its peers are cheap and Nand, the most important driver for Lam's sales, is probably about three quarters away from bottoming, said Moore, who has the equivalent of a buy rating on the stock.
1Q adjusted EPS estimate $3.22 (range $3.16 to $3.41); forecast on July 26 of $3 to $3.40
1Q revenue estimate $2.31 billion (range $2.3 billion to $2.39 billion); forecast $2.15 billion to $2.45 billion
1Q adjusted gross margin estimate 46.1%; forecast 45%-47%
2Q revenue estimate $2.35 billion (range $2 billion to $2.67 billion)
2Q adjusted EPS estimate $3.27 (range $2.28 to $4.13)
2Q adjusted gross margin estimate 46.4%
Lam Research has 17 buys, 6 holds, 0 sell ratings
Average price target $208.11 (44 upside from current price)
Implied 1-day share move following earnings: 6.6%
Shares rose after 6 of prior 12 earnings announcements
Adjusted EPS beat estimates in each of past 12 quarters
Shares down 22% so far this year vs 4.2% gain in S&P 500 Index
Earnings release expected Oct. 16, usually around 4:05 p.m. New York time
Call 5 p.m. (800) 667-5617 password: 7552001