LaGuardia Chaos May Have Helped Push Trump to End Shutdown
(Bloomberg) -- There certainly have been worse days at LaGuardia, O'Hare and Miami airports. But on Friday some of these busy routes came to a brief but abrupt halt -- and that may have been among the final pushes that led President Donald Trump, already under pressure, to reopen the government.
The White House for weeks had tried to minimize what Americans saw and felt of the historic government shutdown, while also allowing certain pet projects to move ahead.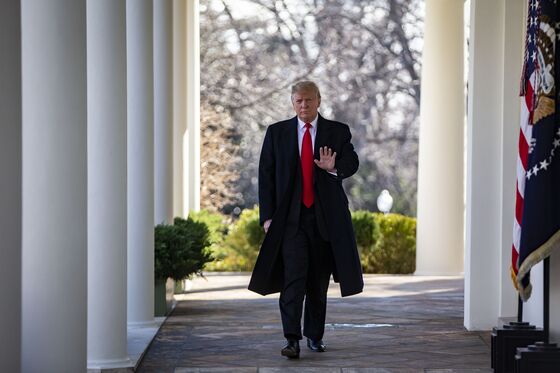 But on the 35th day, the shutdown itself came to a halt -- at least for now. The pressure had built within Trump's own party, and as federal workers missed a second paycheck on Friday, Transportation Security Administration screeners and air-traffic controllers made it clear they didn't like to work without being paid.
Problems at the nation's airports have been rising steadily, chiefly at New York-area airports and at major hubs like Chicago and Atlanta, from sickouts among screeners and absentees of air-traffic controllers, who are deemed essential workers and were expected to report to work without pay.
On Friday mid-morning, flights into New York's LaGuardia Airport were halted for more than an hour because of a ground stop ordered by the Federal Aviation Administration. The delays affected other East Coast airports including Newark and Philadelphia. The FAA cited staffing issues in the Washington area and in Jacksonville, Florida.
LaGuardia doesn't crack the top 10 in terms of the busiest U.S. airports, but along with Newark, it's used every day by thousands of business travelers and others heading into and out of New York City. Washington's Reagan National Airport, also affected on Friday, is used regularly by members of Congress to return to their home districts.
The online flight-tracking service FlightAware.com showed 294 flights departing and 293 flights arriving into LaGuardia delayed through Friday afternoon -- just short of half the flights in that period -- as other airports also experienced delays.
The incident followed a warning earlier this week from JetBlue Airways Corp. Chief Executive Officer Robin Hayes, who said the shutdown was heading toward a "tipping point."
The LaGuardia problems combined with other potential negative outcomes -- including possible delays to federal tax refunds -- to force Trump and members of Congress to respond without delay. Within hours, the government was on the way to reopening.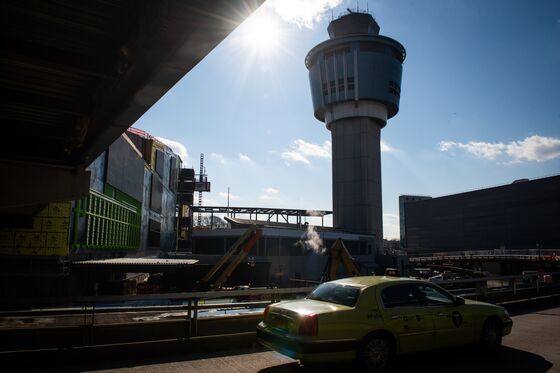 Trump announced a deal to reopen the government for three weeks, ending the partial shutdown without securing any of the border wall money he had demanded. He added in remarks at the White House that he'll make sure federal workers get back pay quickly.
The Airports Council International, a trade body for the world's airport authorities, made its concerns known even after Trump's statement.
The group urged Trump and Congress "to reach a long-term deal that ensures the dedicated federal workers who make our air transportation system run are paid so that our air transportation system is restored to its full capability."
At Miami International Airport earlier on Friday, traveler Mike Sitler stared at the departure board, worried about delays caused by the LaGuardia shutdown. Some 15 flights were delayed, including four to LaGuardia.
"Not only is this devastating to the 800,000 people who aren't getting paid. But now we're seeing how the rest of the population is being affected by this. I just don't understand how people have lost the ability to compromise -- on both sides," said Sitler, who lives in Allentown, Pennsylvania.
At O'Hare International Airport in Chicago, the United Airlines terminal was relatively quiet. Bryan Ramson, a 31-year-old physicist from Chicago, was traveling to Newark, where he was scheduled to fly to Geneva for a business trip.
"I've been sort of dreading this for a week now," Ramson said. "It's been a heavy weight on my mind."