L.A. Port Terminal Operators Lift Fee to Boost Night Pickups
(Bloomberg) -- Terminal operators at the clogged ports of Los Angeles and Long Beach, California, are lifting a fee on nighttime container moves, an action pushed by the Biden administration to clear the backlog of boxes there.
Since 2018, truck drivers have paid a so-called traffic mitigation fee to offset congestion and air quality regardless of the time of the day.  On Wednesday, a group of terminal operators said they would eliminate the fee from 6 p.m. to 7 a.m. during the week and all day on weekends -- a move aimed at encouraging drivers to use less congested times.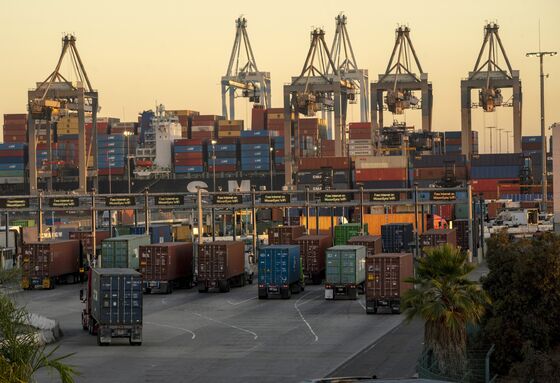 The leadership of the Los Angeles and Long Beach ports, as well as John Porcari, port envoy to the Biden administration supply chain task force, have urged the terminal operators to make the changes to help clear thousands of containers that have prevented cargo ships from docking. As of Tuesday, 81 container ships were anchored off the coast awaiting a chance to dock and unload.
The new fee structure will take effect on Dec. 1 and last until Jan. 31. The terminal operators also temporarily more than doubled the cost for peak hours to $78.23 per 20-foot equivalent unit or $156.46 for other sizes. 
The changes to the traffic mitigation fee are subject to clearance by the Federal Maritime Commission, according to a release by PierPass, which administers the traffic fee.