Kotak's `Interesting Move' May Remove Overhang From Bank Shares
(Bloomberg) -- Billionaire Uday Kotak's "interesting move" to dilute his holding in Kotak Mahindra Bank Ltd. via a preference share issue will remove an overhang from the stock if the transaction is acceptable to the central bank, according to analysts at Morgan Stanley.
The Mumbai-based lender sold 5 billion rupees ($72 million) worth of non-convertible perpetual non-cumulative preference shares to domestic institutional investors, reducing its founder Kotak's interest in the bank's paid-up capital to below 20 percent, the bank said in a filing. His holding had been previously reported at just over 30 percent.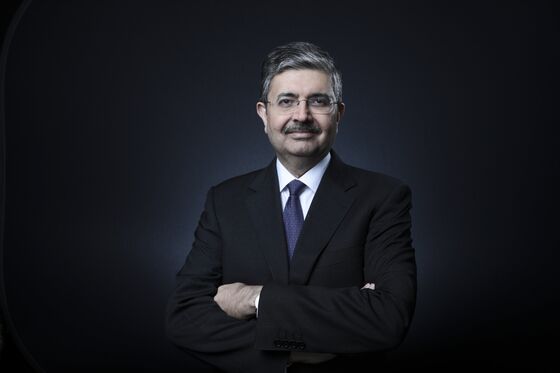 Last year, the Reserve Bank of India ordered Kotak to cut his ownership of the bank in phases to below 20 percent by 2018 and to 15 percent by March 31, 2020.
Despite the latest reduction, Kotak's equity ownership in the bank is unchanged at 30 percent, according to the note Friday by Morgan Stanley analysts led by Sumeet Kariwala. Guidelines issued in the early 2000s defined promoter shareholding based on paid-up capital, the analysts noted.
However, more recent guidelines "have defined promoter ownership based on paid-up equity-share capital and hence we need to see if the RBI is comfortable with the above move," the note said. "If the RBI is fine, this reduces an overhang of big equity supply from the stock."
The bank informed the RBI of the preference share issue on Thursday, according to Chief Financial Officer Jaimin Bhatt. The NCPS holders won't have voting rights in the bank, and the move won't lead to earnings dilution for existing holders, Bhatt said.
Kotak Mahindra shares were up 2.1 percent at 1:48 p.m. in Mumbai, extending this year's gain to 29 percent.