Korean Manufacturers' Confidence Hits Decade High Amid Recovery
(Bloomberg) -- Confidence among South Korean manufacturers has jumped to its highest in almost 10 years, as optimism builds over the economy's growth prospects.
An index of business sentiment among manufacturers climbed to 91 in April from 85, for its highest reading since August 2011, the Bank of Korea said in a statement Wednesday.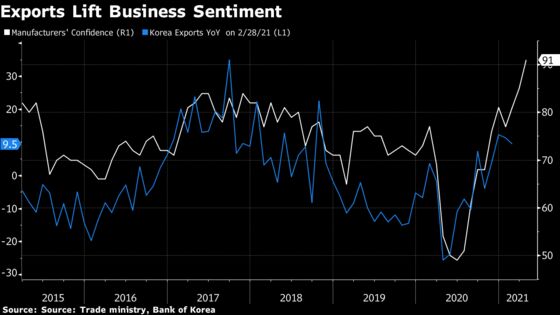 The improvement was broad-based, with separate gauges for domestic firms and exporters rising at a similar pace, and sentiment for small companies increasing even more than for exporters. The headline result far exceeded the long-term average of 81 used as a yardstick to assess sentiment.
The upbeat mood follows a return to optimism among consumers and comments by President Moon Jae-in and Bank of Korea Governor Lee Ju-yeol that the economy is growing faster than they previously thought. Korea has entered 2021 in better shape than most economies and with less scarring from the pandemic. Strong export growth and signs of a consumption revival are underpinning the recovery.
KOREA INSIGHT: 2021 Outlook Brightens as Exports Not Sole Driver
Among survey components, firms' expectations for production, new orders and operation rates were among the measures that improved from the previous month. Profitability expectations declined slightly.
Some 20.2% of surveyed manufacturers cited economic uncertainty among difficulties for their business operations, a decline from 22.9% the previous month. The proportion of firms citing rising commodity prices as a problem rose to 14.7% from 10.0%.
Confidence among non-manufacturers picked up for a third month to 78, its highest since 2018. The long-term average for service industries is 77.