Korean Air's Chairman Faces Trial After Embezzlement Probe
(Bloomberg) -- Korean Air Lines Co. Chairman Cho Yang-ho is set to stand trial in an embezzlement case, adding to troubles faced by a family that's been at the center of rage-driven scandals.
Indicting Cho, prosecutors said he pocketed 19.6 billion won ($17 million) in fees meant for the carrier from maintenance and duty-free operations in the five years through 2018, a spokesman at the Seoul Southern District Prosecutors' Office said Monday. The company will present facts at the trial, a Korean Air spokeswoman said.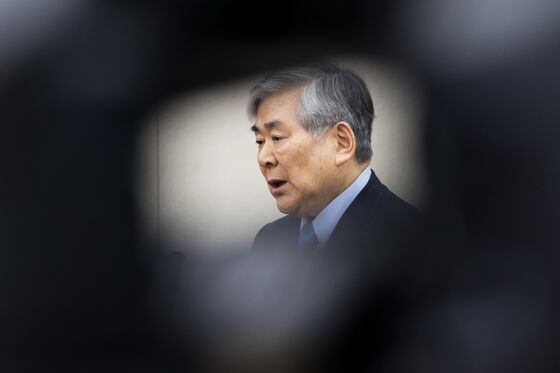 The move by the authorities against Cho, 69, is part of efforts by South Korean President Moon Jae-in to crack the whip on cozy ties between the country's industrial giants and the government, which the leader has called "deep-rooted evil." Cho's trial follows last year's conviction of Samsung Group's de facto chief Jay Y. Lee in a bribery case, and sends a strong message to businesses and executives that breaking laws will no longer be tolerated.
While Cho, who is the head of Hanjin Group, was also investigated for suspected tax evasion, prosecutors dropped those charges after time limits passed in March 2014.
Cho's eldest daughter made it to the front page of media around the world about four years ago, when she forced a plane she was on to return to the gate because she wasn't happy with the nuts that Korean Air served her. Earlier this year, her younger sister allegedly threw water in the face of an advertising agency worker during a business meeting.
Prosecutors, however, didn't indict the daughter at the center of the water incident because the victim didn't want to file charges.