Korea's Huge Bet on Semiconductor Exports Adds Risks to Economy
(Bloomberg) -- South Korea has profited so much from the explosion in demand for semiconductors that its economy is now vulnerable to any downturn in the market for these tiny electronic components.
They account for more than 21 percent of exports and two-thirds of earnings at Korea's biggest company, Samsung Electronics Co. The firm is the nation's largest private employer and its revenue is equivalent to 15 percent of annual economic output. The stock market is similarly exposed.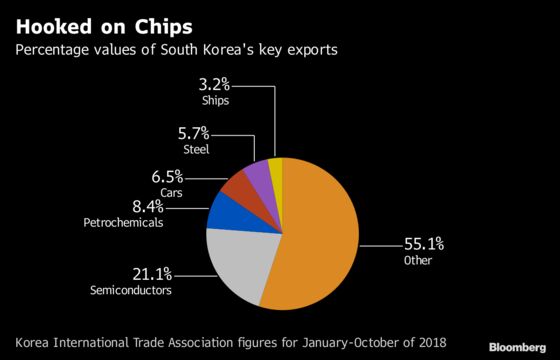 While the profits have kept pouring in for Samsung and its smaller rival SK Hynix Inc., their share prices are under pressure amid concern that chip prices may fall next year. Equally worrying, Chinese regulators have taken aim at the pair and their American peers for alleged anti-competitive behavior, just as policy makers in Beijing seek to boost local semiconductor manufacturers.
"If chip exports were to collapse, the pain would be brutal for the Korean economy," according to Lee Sang-ho, the head of the Innovative Growth Department at the Korea Economic Research Institute. He's not saying that this will necessarily happen, but sees an urgent need for alternative growth engines as the dependence on semiconductor exports increases.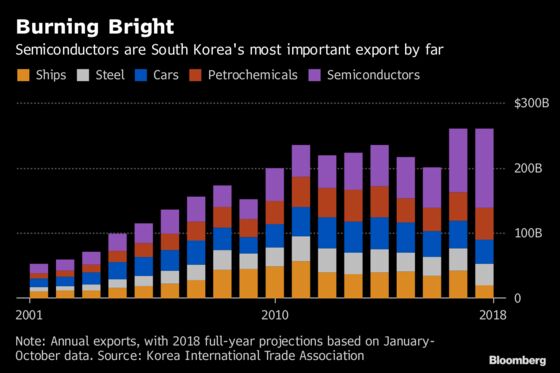 Shipbuilding remains an important industry for Korea, but its relative decline is clear amid competition from China. The auto industry is still a powerhouse, yet much production has headed offshore and the weaker Japanese yen has been a competitive challenge to Seoul-based carmakers such as Hyundai Motor Co. The petrochemical industry is buffeted by shifting oil prices and steel exporters have been forced to accept limits on sales to the U.S.
Years of looking for the next cash cow, be it cosmetics or bio-pharmaceuticals, has done little to change the picture. Meanwhile, Samsung and Hynix have announced about $60 billion of investments in facilities that each year could pump out millions of silicon wafers -- the building blocks of semiconductors.
In the wake of a bumper third-quarter earnings season in Korea, CLSA analyst Paul Choi pointed out that almost a third of the country's corporate profits come from one specific type of chip, known as DRAM, or dynamic random access memory. Looking broadly, forecasters at IHS Markit see a peak in revenue growth for DRAM, and another chip category known as Nand.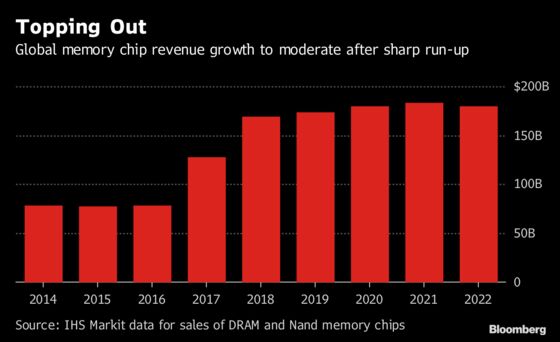 U.S.-China trade frictions are another big worry, given the huge volumes of Korean chips that go into electronics assembled in China for shipment to the American market.
And in the longer term, Beijing's aggressive investments in homegrown chip companies and its sweeping Made in China 2025 campaign pose strategic risks to Korean semiconductors. This can already be seen in the ramp-up of Chinese purchases of precision machinery for its factories.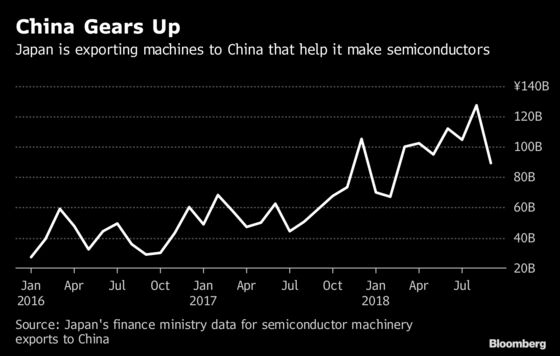 Early export figures for the first 20 days of November showed a drop in Korean sales to China and a weak figure for chip shipments. The next chance to check the trends comes with data for the full month on Dec. 1.