Korea's Exports Jump in Early Data as Global Trade Recovers
(Bloomberg) -- South Korea's early trade report showed exports surging in April, buoyed by a recovery of global commerce and a low year-earlier base when the pandemic forced lockdowns across the world.
Exports rose 45.4% in the first 20 days of the month from a year earlier, the customs office reported Wednesday. Average daily shipments gained 36% in the period, which had one more business day compared with in 2020.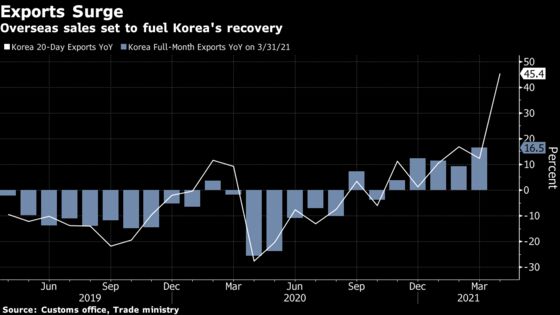 Gains were broad-based across regions and products, with exports of cars, mobile communication devices and petroleum products all gaining by more than 50%. Semiconductor shipments rose 38.2%.
"While the growth numbers have been boosted by low base effects, underlying momentum remains solid, with exports adjusted for working days up 11% relative to the same period in 2019," said Krystal Tan, an economist for Australia & New Zealand Banking Group.
The report bolsters the view that a pickup in vaccinations across the world are paving the way for a bounce back in demand. Korean exports serve as a proxy for the health of global commerce as its manufacturers are positioned widely across supply chains.
Korea has seen overseas demand improve beyond chips, with the full-month report for March showing sales growth for 14 out of 15 key export items. Central bank Governor Lee Ju-yeol said last week that Korea's export performance will help the economy expand in the mid-3% range this year, above the 3% growth forecast in February.
Exports to China, Korea's largest overseas market, rose 35.8% between April 1-20 from a year earlier. Shipments to the U.S. were up close to 40%, while those to the European Union surged 63%. Sales to Japan gained 21.3%.
South Korea's overall imports rose 31.3% in the first 20 days of April.