Korea's Economic Growth, Inflation Data Belie Troubled Outlook
(Bloomberg) -- South Korea's latest growth and inflation figures met expectations -- and the central bank's price target -- yet failed to ease concern that the outlook is deteriorating for Asia's fourth-largest economy.
Gross domestic product expanded 0.6 percent in the third quarter from the previous three months, matching a preliminary estimate from the Bank of Korea, while consumer prices in November rose 2 percent from a year earlier, as forecast by economists, according to the statistics agency.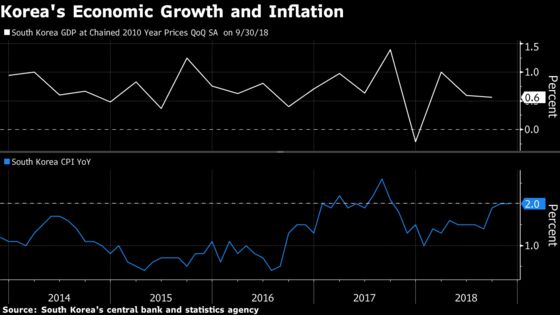 While the U.S. and China appear to have struck a temporary truce in their trade war, Korea's export-dependent economy remains exposed if the pair can't patch up their differences. China is Korea's biggest trading partner and most of what it ships there are intermediate goods that form building blocks in products sold around the world.
The economic growth and inflation figures are unlikely to prompt any change by the Bank of Korea at its next meeting in January, after it last week raised its key interest rate for the first time in a year, to 1.75 percent from 1.5 percent.
While, Governor Lee Ju-yeol has left the door open for further monetary tightening -- saying the policy rate is still below the so-called neutral rate -- he's partly tied to changes at the Federal Reserve, which remain fluid.
During his confirmation hearing in parliament Tuesday, finance minister nominee Hong Nam-ki said the economy is in a "difficult situation" with sluggish investment and employment, and weakening growth potential.
Complicating the picture, falling global oil prices, together with a fuel-tax cut in Korea, could weigh on inflation. Demand-side inflation pressure is weak.
What Our Economist Says ...
"South Korea is heading into year-end with inflation on target but set to slow, export growth slumping and investment weakening," said Bloomberg Economics' Justin Jimenez. "That combination adds up to a fragile economy that is likely to need extended monetary support. We think the Bank of Korea will keep rates accommodative in a policy pause that lasts through 2019."

--Click here to read his KOREA INSIGHT.
Gross domestic product expanded 2 percent in the third quarter from a year earlier, also matching the previous estimate by the central bank. The year-on-year figure was the weakest in nine years.
Versus the previous month, CPI decreased 0.7 percent, compared with a projected 0.6 percent drop.
The month-on-month drop was largely due to price declines in vegetables and fruit, while the government's fuel-tax cut also contributed.
Core CPI accelerated 1.3 percent compared with a year earlier.
On quarter-on-quarter basis, exports rose 3.9 percent in the third quarter, facilities investment fell 4.4 percent, government spending increased 1.5 percent, construction investment dropped 6.7 percent and private spending advanced 0.5 percent.