Kohl's Sees Headwinds in Second Half, Leading Investors to Sell
(Bloomberg) -- Kohl's Corp. raised its profit forecast for the year, but that wasn't enough to cheer investors, who sold shares after the company said it expected "headwinds" in the second half.
Unseasonable weather hurt traffic at the department-store chain in the first quarter, though as temperatures improved, business "bounced back," helped also by a calendar shift, Chief Financial Officer Bruce Besanko said on a conference call Tuesday. And while the second quarter may also get a lift, the company expects comparable-sales headwinds in the second half of the year.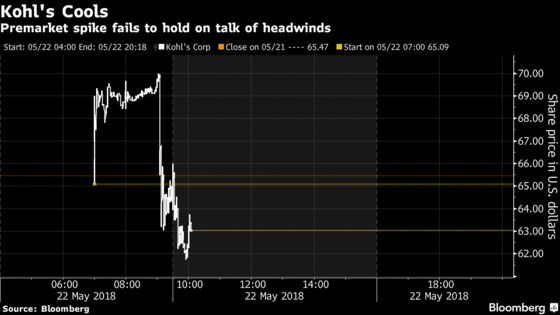 The shares fell as much as 5.7 percent to $61.76 in New York Tuesday. They had gained 21 percent this year through Monday's close.
Chief Executive Officer Michelle Gass, who took over last week, is looking to distance Kohl's from other mall-based department stores. Rather than closing underperforming locations -- a strategy adopted by Macy's Inc., J.C. Penney Co. and Sears Holdings Corp. -- Kohl's has been touting the fact that its stores have remained open. It's reformatting many into smaller venues and using them to test partnerships with companies like Amazon.com Inc. and Aldi supermarkets.
Excluding some items, Kohl's profit amounted to 64 cents a share in the period that ended May 5. Analysts had projected 50 cents on average. On a same-store basis, Kohl's sales grew 3.6 percent -- surpassing the 2.7 percent increase predicted by analysts, according to Consensus Metrix.
Gass said managing the retailer's inventory helped its gross margin -- a measure of profitability -- exceed the company's expectations. The margin in the first quarter also topped analysts' estimates. Kohl raised its forecast for full-year earnings per share to $5.05 to $5.50, up from a previous outlook of $4.95 to $5.45.
Last quarter's results have been a mixed bag for the department-store industry. Macy's cited strong consumer demand, but J.C. Penney and Nordstrom Inc. underwhelmed investors with sales that missed projections. Both cited unseasonable weather as hurting demand for apparel.
Kohl's is letting customers test out Amazon electronics in some locations, and it's accepting returns from the e-commerce giant's shoppers at select stores. Still, the effort only began in October and affects a small number of Kohl's.
The partnership is being closely watched by investors. Since the launch of the pilot program, traffic at participating Chicago Kohl's stores has been about 8.5 percent higher than others, according to geolocation data analyzed by Gordon Haskett Research Advisors. The hope is those customers stay and shop at Kohl's stores.