Kodak Is Having a Comeback Moment as Oscars Embrace Film
(Bloomberg) -- Eastman Kodak Co., the once-bankrupt maker of photographic film, has seen sales to Hollywood rise for five straight years as directors with clout fight to keep the medium in use.
Four of the nine films nominated for best picture at Sunday's Academy Awards were shot on Kodak film: "Once Upon a Time...in Hollywood," "Little Women," "The Irishman" and "Marriage Story." A fifth picture, "The Lighthouse," is nominated for best cinematography.
In a trend reminiscent of the revival of vinyl records, Kodak is investing in new capacity to make film for movies at its Rochester, New York, plant and hiring more employees, according to Steve Bellamy, president of Kodak's motion picture and entertainment unit.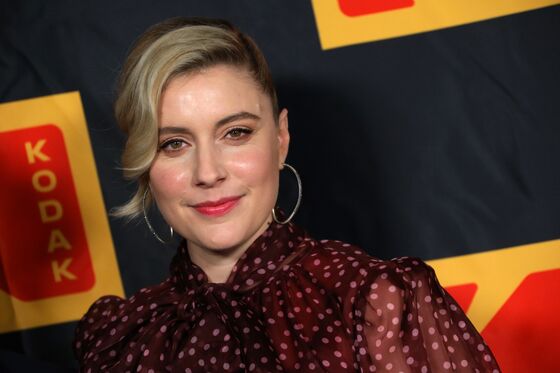 Selling film to Hollywood is only a small fraction of Kodak's business -- and not about to restore the company's former fortunes -- but it's bringing back a bit of glamour to the photographic icon.
The company sold more 65-millimeter film, its largest format, last year than ever before, Bellamy said. That size is used on productions such as large-screen Imax Corp. films, as well as the newest James Bond movie. Film proponents say the medium offers a softer, warmer, grainier look that makes outdoor scenes brighter and can be more flattering to actors.
Hollywood's love for celluloid was on display last week in Los Angeles at the fourth-annual Kodak Film Awards, an event the company organized to promote its core product. Directors Christopher Nolan, Quentin Tarantino, Noah Baumbach and Greta Gerwig were among those in attendance receiving awards.
"I want to thank the Kodak people for existing, and for making film and for giving me the art form that I love so much," Tarantino told the crowd.
He also thanked Nolan, the director of "Dunkirk" and other pictures, for rallying so many directors to support shooting on film. "He led the entire charge," Tarantino said. "He was the one who made all the phone calls. He was the one who told us how dire it was. We would have been whistling happily over Niagara Falls."
Digital filmmaking has soared since 2002, when studios first began shooting their biggest pictures that way. The percentage of the industry's top-grossing films that were made digitally passed film in 2012, according to data from Stephen Follows, who researches the business. By 2018, 91% of the most successful movies were created in that format.
The lower cost of digital cameras -- some features have even been shot on iPhones -- make it hard for film to compete, notes Jay Russell, a director who has worked with both mediums. Studios aren't paying for celluloid that ends up on the cutting-room floor. It's easier for Hollywood's technical wizards to add special effects to digital works, he said. And there's no lugging film canisters to edit rooms or theaters.
"Everything's sent over the wire," he said.
Kodak, which invented digital photography but was unable to cope with the decline of its traditional film business, declared bankruptcy in 2012. That's when Hollywood's Kodak Theatre, the home of the Oscars, became the Dolby.
The company is publicly traded after reaching deals with creditors. And its motion-picture sales rose by $7 million in the first nine months of last year, while overall revenue declined, according to a public filing.
'Super-Serving' Filmmakers
Bellamy, the founder of the Tennis Channel cable network, has led Kodak's entertainment business since 2015. He said his focus has been to "super-serve" directors and cinematographers. That includes networking dinners, hikes and even vacations with the filmmakers, he said -- as well as events like last week's awards.
Gerwig, whose "Little Women" is up for best picture and best adapted screenplay at the Oscars, said she didn't shoot her first big picture, "Lady Bird," on film because people told her it would be too expensive and too difficult to find people who could work with the equipment.
"They say, 'Nobody even knows how to load it anymore,'" she recalled at the event.
When Baumbach cast her in his 2010 film "Greenberg," she learned to appreciate the medium.
"As an actor, I remember that feeling of importance, and it felt like I was being put down on some record that mattered," she said. "I felt like my soul rose closer to the surface so that it could be seen. It was that kind of communion with a machine that you can have."
Still, Gerwig said she had to press Sony Corp. to allow her to shoot "Little Women" on film. Tarantino making "Once Upon a Time...in Hollywood" at the same time at the same studio aided in her argument.
"It was a fight every step of the way," she recalled. "I kept saying: 'What's Quentin getting?'"
Bellamy disputes that shooting on film costs more and said he's worked out deals with the major studios to give them discounts in exchange for long-term purchase commitments.
Tarantino said he only shows movies shot on film at his theater, the New Beverly Cinema, in Los Angeles. He owns a 35-millimeter print of the 1972 Sam Peckinpah Western "Junior Bonner" that's faded, he said, but he's still shown it at least six times.
"If it could talk, what could it tell me?" he asked the audience. "How many theaters did it play in? How many audiences did it entertain? How many people have laughed at that movie? How many people have cried at that movie? From that one print -- that means something."
"Ghostbusters" theme-song singer Ray Parker Jr., who is shooting a series of documentaries on film, also received an award from the company. He urged the crowd to sing along with him. "Who ya gonna call?" he intoned. "Call Kodak!"