Koch Targets an Endangered Republican's Car Credit That Helps Tesla
(Bloomberg) -- Endangered Nevada Republican Senator Dean Heller's efforts to extend a tax credit that's helped boost demand for electric vehicle batteries made in his state is getting resistance from someone known for helping conservative lawmakers: the billionaire mega-donor Charles Koch.
Koch Industries Inc., a closely held refining and manufacturing company, is lobbying against efforts to extend the $7,500 electric vehicle tax credit that's helped make cars manufactured by Tesla Inc. and others more attainable, according to a letter obtained by Bloomberg.
"Subsidizing the wealthy with tax dollars is not only bad policy, it also increases our national deficit," reads the letter, which was dated Oct. 24, addressed to senators, and signed by Koch lobbyist Philip Ellender. "I urge you to oppose the expansion of credits on plug-in electric vehicles (EV) through 2022."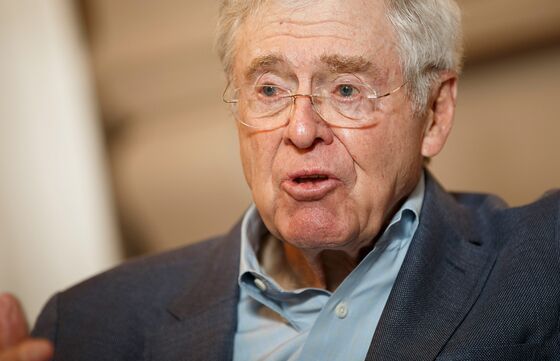 A bill introduced earlier this month by Heller would do just that. A spokeswoman for Heller, who's locked in a close re-election battle with his Democratic challenger, Representative Jacky Rosen, didn't respond to a request for comment.
Rosen is co-sponsoring efforts in the House to have the tax credit extended through 2028.
"Senator Heller should support the existing bill that was already introduced and gaining support in Congress," Rosen campaign spokeswoman Miranda van Dijk said in an email.
Americans for Prosperity, the Kochs' non-profit political advocacy arm, has yet to endorse Heller. The group has, however, voiced its opposition to the tax credit in a tweet that mentioned both Heller and Rosen.
Tesla Chief Executive Officer Elon Musk has downplayed the impact of the federal tax credit. During an earnings call Wednesday, he said Tesla should be able to sustain demand for its Model 3 sedan once it's able to offer lower-priced iterations. He estimated that the company is probably less than six months away from introducing a $35,000 version of the Model 3.
During a podcast interview in September, Musk made a case for the incentives to support electric cars.
"All fossil fuel-powered things have an inherent subsidy, which is their consumption of the carbon capacity of the atmosphere and oceans," Musk said on the podcast. "People tend to think, like, why should electric vehicles have a subsidy? But they're not taking into account that all fossil fuel-burning vehicles fundamentally are subsidized by the environmental cost to earth. But nobody's paying for it. We are going to pay for it, obviously. In the future, we'll pay for it. It's just not paid for now."