Kobe Bryant Crash Probe to Highlight Gaps in Helicopter Safety
(Bloomberg) -- Basketball legend Kobe Bryant's death as his chartered helicopter crashed in a Southern California fog bank last year highlighted some familiar -- and preventable -- safety concerns.
They include questionable decisions about whether to take the flight and to proceed in deteriorating weather; possible pressure to fly with a celebrity passenger; and a pilot who hadn't practiced flying in the clouds for months.
As the U.S. National Transportation Safety Board meets on Tuesday to determine the cause of the Jan. 26, 2020, crash that killed Bryant, his daughter Gianna and seven other people, it will address factors that occur repeatedly in helicopter accidents, according to aviation safety experts. What makes it worse, they say, is that preventing such crashes is well understood.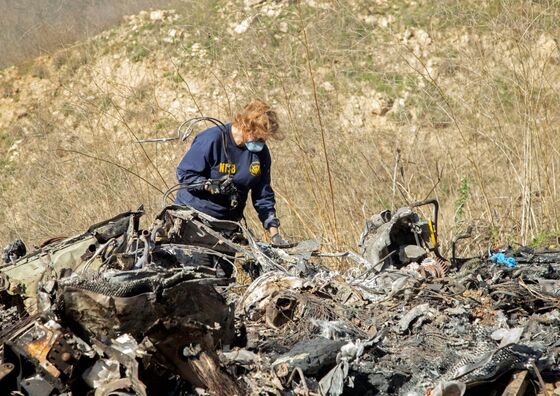 "We see the fatal accidents, unfortunately, have a predictable pattern," said Tom Judge, executive director of LifeFlight of Maine, that state's air-ambulance system. "We know how to mitigate those. It really comes down to, do we have the will in the industry to take on the work that needs to be done? Even if it's uncomfortable and has some upfront cost, it's certainly better than a fatal accident."
Two bills attempting to address helicopter safety in the wake of the Bryant crash were introduced in Congress last year, but didn't advance. The NTSB is likely to issue a set of recommendations on Tuesday, adding to its previous calls for improved helicopter safety.
There have been 211 fatal helicopter crashes in the U.S. in the 10 years from 2011 through 2020, including 20 last year, according to NTSB.
Bryant was among a group being flown to his daughter's basketball game by pilot Ara Zobayan. As the Sikorsky S-76B copter was heading northwest from Orange County to an airport near the sports facility, a bank of fog was hovering over the Los Angeles region at an altitude of roughly 1,000 to 1,500 feet.
The helicopter had been flying below the clouds and Zobayan had requested a special clearance from air-traffic controllers to proceed in deteriorating conditions, according to data previously released by NTSB. Minutes later, as he approached hills, he radioed a controller to say he was climbing to 4,000 feet to go above the cloud bank.
Within seconds, the helicopter entered a steep left turn and then dove toward the ground. A preliminary NTSB analysis concluded it was consistent with pilot disorientation that could have caused him to think he was climbing when he was actually plummeting.
The aircraft slammed into the base of a hillside.
Zobayan was licensed by the Federal Aviation Administration to fly in the clouds -- using so-called instrument flight rules -- and the S-76B has sophisticated automation systems to help pilots in such conditions.
But the charter company, Island Express Helicopters Inc., wasn't permitted to conduct such flights and Zobayan hadn't been trained or tested on such conditions for at least six months, according to NTSB records. The company declined to comment, spokesman Matt Barkett said in an email.
Similar weather has been present in other helicopter crashes, according to LifeFlight's Judge and two other safety advocates.
"As we've seen over the years, the single biggest risk to helicopters is unplanned entry into instrument conditions," Judge said. "It's the constancy, especially for fatal crashes."
To address that problem, all of LifeFlight of Maine's helicopters and pilots are certified to fly on instruments routinely, Judge said.
Similarly, most of the oil and gas industry, which uses helicopters extensively in harsh conditions flying to offshore rigs, has adopted instrument flying procedures, including adding a second pilot to reduce the workload in such conditions.
These companies have also added some of the safety processes seen at airlines, such as installing data monitoring equipment so management can check for problems and ensure the aircraft are operated properly, said Tony Cramp, chairman of the International Oil and Gas Producers' aviation committee.
"It's frustrating to see where other areas of the aviation industry are not taking advantage of those developments," Cramp said.
The U.S. fatal accident rate in helicopters has remained largely flat in the past 10 years, according to data from the U.S. Helicopter Safety Team, which works on voluntary measures to reduce risks.
"They are issues that have been highlighted over and over and over again," said Bob Sheffield, an advocate for helicopter safety who formerly managed a fleet of helicopters for Royal Dutch Shell Plc. "We keep doing it."
Most helicopter charter operators aren't certified to fly in instrument conditions because they mostly operate in good weather and it costs more money to equip aircraft and to keep pilots trained, Sheffield, Cramp and Judge said.
The problem comes when pilots suddenly enter clouds or dark conditions in which they can't see the ground.
Many charter companies also lack the aggressive, in-house safety programs that are becoming the industry standard, they said. Such systems are designed, in part, to relieve pilots of pressure to fly, particularly from wealthy clients.
While there's no indication from NTSB preliminary reports that Bryant pushed the pilot to make the flight, Zobayan's girlfriend told investigators that a broker who had hired the company would get "upset" if he had to cancel because of weather. He had insisted to her that he wouldn't be pressured to fly.
"Nobody stopped Mr. Zobayan from taking that flight and somebody should have," Sheffield said.
Sheffield argued in a recent paper he wrote on the Bryant crash that adding a second pilot and being capable of flying in clouds is the best way to avoid such accidents.
Since federal law allows charter companies to fly without being certified in instrument conditions, Sheffield said the customers need to be more aggressive in asking questions about an operation.