KKR's McVey Sees Rates Holding Above Zero, No U.S. Recession
(Bloomberg) -- Despite warnings coming from the Treasury market, the U.S. economy will avoid a recession and negative-yielding government bonds, KKR & Co.'s Henry McVey said.
The head of global macro and asset allocation at the private-equity firm said the Federal Reserve will continue to cut interest rates, keeping the economy from contracting even as growth slows. Rising tensions in the U.S.-China trade war and slowing global growth spurred a rally in bonds this week, with Treasury 30-year yields closing in on their lowest level ever.
"Do I find it alarming? Yes," McVey said in an interview on Bloomberg TV. "But nominal U.S. rates won't go below zero. "You would have to believe that we're having a very strong decline in nominal GDP or recession."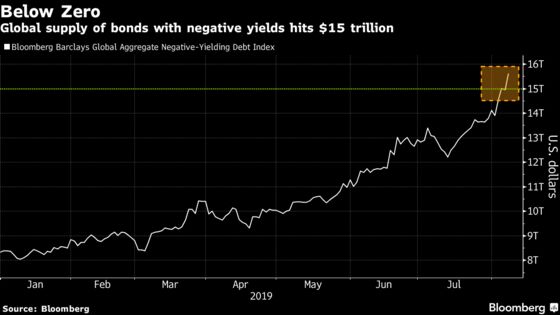 McVey's view is in contrast to a growing chorus of analysts now warning that U.S. Treasury yields could eventually go negative, with Pacific Investment Management Co.'s Joachim Fels saying it's no longer "absurd" to imagine the scenario.
The U.S. should be able to keep growth positive, McVey said, but he warned that there currently is a "global manufacturing recession," partly because of a trade war that has curtailed capital spending.
McVey expects tensions to cool for now, with China unlikely to undertake a large-scale devaluation of its currency even after it weakened to an 11-year low earlier in the week. McVey said the drop sent a "shot across the bow," representing a signal that the country has the tools to match what the Trump administration is doing on the trade front.
U.S. stocks rose on Thursday after China's stronger-than-expected daily fixing of its currency soothed fears about a worsening trade conflict. The yuan's level became a closely-watched event after a weak reference rate on Monday triggered concern about a global currency war.