KKR Said to Make Takeover Proposal for All of Telecom Italia
(Bloomberg) -- The U.S. private equity giant KKR & Co. has made a proposal to buy all of Telecom Italia SpA, a move aimed at revamping the troubled Italian phone company that has shed about half its market value in the past five years, according to people familiar with the matter.
KKR plans to separate out the company's network business in order to get a solid revenue stream from regulated tariffs, the people said, asking not to be identified because the plan isn't public. Telecom Italia's board, chaired by Salvatore Rossi, will meet Sunday afternoon to review a preliminary statement of interest from KKR, the people said. The company's multi-billion euro network, its most valuable asset, is the main focus of KKR, they added. Shares have dropped more than 8% this year to leave the company with a market value of 7.4 billion euros ($8.4 billion).
Prime Minister Mario Draghi's government would be willing to back a KKR offer, but with some conditions to protect the Italian identity of the former state-controlled monopoly, according to people familiar with the matter. One option would be for state-lender Cassa Depositi e Prestiti SpA, the company's second-biggest investor, to raise its 10% stake, the people said. The government could tap its so-called golden power, which allows it to block foreign takeovers or set conditions on bids for assets considered strategic.
Telecom Italia faces one of the world's most competitive telecommunications markets, with cut-price offers from rivals eroding the former state-owned monopolies' profit margins," Chief Executive Officer Luigi Gubitosi efforts to boost premium services failed to reverse the decline and he has been under mounting pressure from the carrier's largest shareholder, French media-conglomerate Vivendi SE, to accelerate turnaround plans after Gubitosi gave a surprise profit warning last month.
"A potential takeover bid for Telecom Italia by KKR may have an insurmountable obstacle in that Vivendi would likely resist, given its 24% stake in the company was acquired at an average cost of 1.03 euros vs. the 34 euro-cent share price," Bloomberg Intelligence analyst Erhan Gurses wrote in a note. "Recent similar M&A suggests at least a 20% premium to the share price prior to the news."
Telecom Italia's shares have declined about 50% in the past five years and their current price is about 1.2 times earnings, a fraction of the 14 times averaged by its European peers, according to data compiled by Bloomberg. The company sits on a net-debt pile of more than 22 billion euros as of the end of September. That may be down 3.3 billion euros from the previous year, but S&P Global Ratings cut Telecom Italia's rating to BB from BB+ on Friday.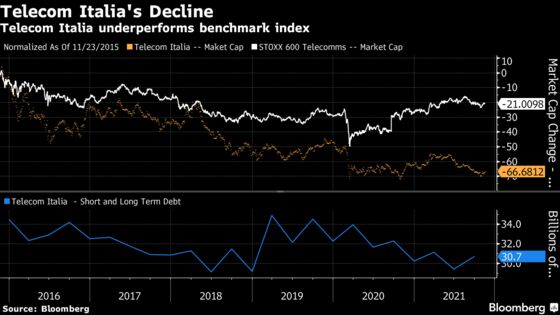 Spokespeople for Telecom Italia and KRR declined to comment. Corriere della Sera reported on a KKR bid earlier on Sunday. Bloomberg News reported this month that KKR was considering a takeover of Telecom Italia's fiber unit, FiberCop. KKR bought a 37.5% stake in FiberCop last year for 1.8 billion euros. 
Gubitosi's strategy to revive earnings has focused on trying to sell more expensive subscription packages that bundle fiber broadband with streaming, video gaming and mobile connections. That premium strategy hasn't reversed the decline, and the company last month reported third-quarter earnings slightly below analyst estimates and lowered its targets through 2023.
Read more on Telecom Italia's performance:
Telecom Italia May Seek to Rework $1.1 Billion DAZN Soccer Deal
Telecom Italia Slumps After Guidance Cut Disappoints Vivendi
Telecom Italia Set Itself Up To More Home Risk: Earnings Outlook
Gubitosi is also seeking to renegotiate an Italian soccer accord worth about 1 billion euros with online sports broadcaster DAZN Group Ltd after the deal generated less revenue than expected, people familiar with the matter said earlier this month. DAZN, a streaming startup backed by billionaire Len Blavatnik, offered the Milan-based league 840 million euros a season, with Telecom Italia backing 40% of the bid by providing about 340 million euros a year, people familiar with the matter told Bloomberg last year.
KKR's future plans for Telecom Italia would be an alternative to the long-discussed merger of FiberCop with its smaller, state-backed rival, Open Fiber SpA. KKR has already held some talks with the Italian government about a bid for Telecom Italia, people familiar with the matter said. A spokesman for the Italian government wasn't immediately available for comment. 
There have also been reports that Vivendi would team up with CVC Capital Partners for a possible takeover bid of the Italian phone company. A spokesperson for the French media-conglomerate denied any talks about a possible offer on Sunday. Vivendi remains a long-term investor in Telecom Italia and wants to collaborate with Italian authorities for the success of the company, the spokesman said.