KKR Leads Rise of Leveraged Loan Alternatives to Wall Street
(Bloomberg) -- KKR & Co is leading a pack of non-traditional arrangers taking a bigger slice of the U.S. leveraged loan market.
KKR is the fifth most active underwriter of institutional loans in 2019, up from 11th a year earlier, according to data compiled by Bloomberg. Ares Capital Corp, which also has a large private credit business, is the 15th biggest arranger, up 25 spots. It participated in 2019's biggest deal, a $3.66 billion loan to fund the LBO of Athenahealth.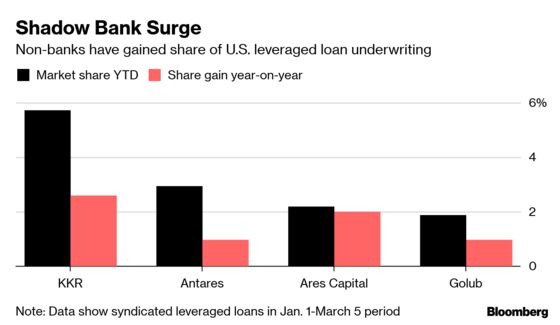 The alternative lenders are muscling into a market in retreat, with issuance down 67 percent from a year earlier. Last year, regulators defanged leveraged lending guidance set in 2013 that had limited banks' risky loans.
Now, being outside the banking system doesn't confer much of an advantage over more regulated peers. Jefferies, Macquarie and Nomura have fallen in the league table this year.
Also grabbing more of the capital markets business typically dominated by Wall Street banks is mid-market specialist Golub Capital LLC, which rose five spots to rank 18th in the U.S. institutional loan league table. Antares Capital LP, which also focuses middle market companies and tends to hold a portion of that lending, is ranked 13th.
Representatives for Ares Capital, Golub Capital and Antares did not return calls seeking comment.
"Last year, our capital markets business financed more non-KKR companies than KKR portfolio companies," said Adam Smith, global head of capital markets at KKR. He added that KKR did business with more than 50 third-party clients, including 25 new names.