KKR Wants a Slice of Germany's Most Influential Publishing House
(Bloomberg) -- For decades, Axel Springer's widow has been the keeper of his legacy, grooming executives to enforce the founder's vision at the publisher of Germany's Bild tabloid while solidifying the family grip with a controlling stake. But as the company advances its costly transformation into a digital media powerhouse, Friede Springer is finding that she needs a partner to help shoulder the burden.
Enter KKR & Co., which is seeking to buy out minority shareholders with an offer that values Axel Springer SE at 6.8 billion euros ($7.7 billion). Friede Springer and CEO Mathias Doepfner, who together hold more than 45% of the company, are betting that the private-equity company's clout and deep pockets will help them with the transition online.
Axel Springer, which bought Business Insider in 2015 for $343 million, has languished since the stock peaked early last year, as investors watched digital-media rivals fold and worried about Google and Facebook Inc. encroaching on online classifieds, which have become one of Springer's growth engines while it pares back its print publishing assets. As if to make a point about the bumpy ride ahead, the company cut its sales and profit outlook alongside the announcement of KKR's bid on Wednesday.
KKR would be a long-term partner that could help Axel Springer invest in its existing publications and classifieds products and make acquisitions, Doepfner said on a call with journalists, stressing the need to spend even with growth slowing.
"KKR has very clearly backed our growth strategy," Doepfner said, characterizing their strategic alignment as "extremely high."
The cash offer of 63 euros a share is a 13% premium over Tuesday's close and about 40% more than the price before Bloomberg reported the talks last month. Axel Springer shares rose as much as 13% to 63.30 euros in early trading in Frankfurt, below their peak of 74 euros from February 2018.
Doepfner, a confidant of Friede Springer who lives next door to her home in the leafy town of Potsdam outside Berlin, has spent almost two decades turning the publisher into a digital media company, shedding printing, newspaper and magazine operations to push into online news with products such as Business Insider and classifieds sites including job portal Stepstone. It now makes almost three quarters of its sales from digital businesses.
In Germany, Springer remains best known for Bild, Europe's biggest-selling daily thanks to its political scoops, outrage-inducing headlines, and paparazzi shots of celebrities. While the publication's print sales have dropped in the past decade, Doepfner has made up some of that lost revenue with fees paid by more than 500,000 web subscribers.
Axel Springer always styled himself as more than just a newspaper man. Deeply opposed to the division of Germany after World War II, he erected the skyscraper office right on the Berlin Wall as a beacon of freedom. Expanded several times over the decades, the building has a top-floor reception area that oozes the vibe of a smoke-filled London private club, replete with original artwork and sweeping views of the city. It's here that Germany's political, financial and media elite like to meet, solidifying Springer's reputation as a well-connected power broker that can make or break individual careers or entire governments.
Doepfner has been CEO since 2002, overseeing the transformation from publishing to digital assets. He tried unsuccessfully to buy the Financial Times, and some forays into auxiliary businesses have fizzled. Still, Springer is investing heavily in its online future, including an imposing new building rising next to the original skyscraper that will be home to its digital activities.
But the digital-media sector has been looking shakier of late, with several news sites closing or cutting jobs as their owners try to staunch losses. Axel Springer said it now expects 2019 sales and adjusted Ebitda to drop below last year's level and 2020 adjusted Ebitda to be "significantly below" figures for this year, as the company focuses on growth.
Classifieds Consolidation
Axel Springer shareholders should accept the "good" offer from KKR, bearing in mind the profit warnings, said Sarah Simon, an analyst at Berenberg. With EBay Inc.'s German classifieds business potentially coming up for sale, "KKR probably wants to use Springer as a platform for further consolidation in the European classifieds market," she said by email.
KKR's voluntary offer to shareholders is subject to a minimum acceptance threshold of 20% and further conditions including foreign investment and merger control clearances. Both Friede Springer and CEO Doepfner plan to keep their holdings.
A buyout of minority investors would see Axel Springer join Bertelsmann, the German publisher that owns Penguin Random House, in being shielded from the scrutiny of public markets.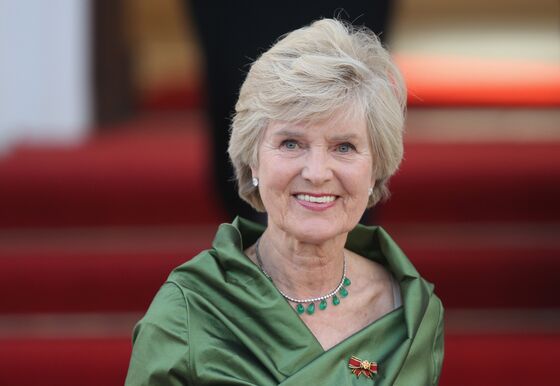 More companies are being taken private thanks in large part to buyout firms' swelling cash reserves, which amount to about $1.4 trillion, according to data compiled by Bloomberg.
In Germany, however, private-equity buyouts are not always successful. Shareholders of classifieds company Scout24 AG last month rejected a 4.9 billion-euro bid from private equity firms Blackstone Group LP and Hellman & Friedman.
Springer's decision to invite in KKR is based on a "very good experience" dealing with financial investors including Hellman & Friedman, which backed the company's early foray into expanding digital sales from 2003 until 2010, and General Atlantic, which helped the publisher expand its classifieds business "better than we could have done alone," Doepfner said.
It's also based on a careful due diligence of KKR's track record of growing other online companies through organic investments and acquisitions, including Scout24 Schweiz and travel startup GetYourGuide. Doepfner and KKR's Henry Kravis have known each other for many years and trust each other, the CEO said. KKR will hold its stake for at least five years as per the investment agreement, he said.
KKR backs Springer's plan to invest in technology and people to grow its Business Insider unit, spend more on marketing and tech to grow the digital offerings of the Bild and Welt newspapers, and expand its classifieds portals from jobs to real estate, Doepfner said.