KKR, After Nailing the Rally in Stocks, Says It's Time to Lighten Up
(Bloomberg) -- One of the largest U.S. private-equity firms has a warning on publicly traded stocks: It's time to fade the rally.
After a bullish stance in January paid off, KKR & Co. is now turning more cautious, saying equities are no longer cheap and investors should hold the same amount of U.S. stocks as suggested by benchmarks. It's a reversal from just two months ago, when the firm boosted its recommendation to overweight from underweight.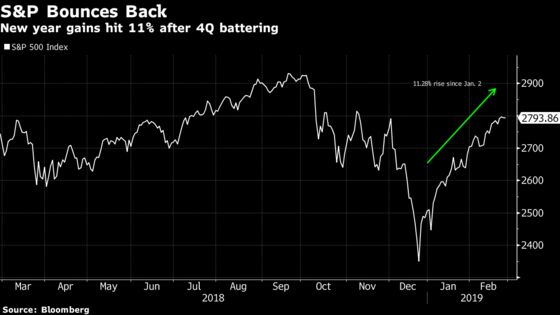 KKR's call is echoing strategists from Goldman Sachs, who have warned the equity rally is set to stall as concerns over a recession and Federal Reserve monetary tightening have evaporated. The S&P 500 Index is off to its best start of a year in three decades, jumping as much as 19 percent from its December low despite a flurry of earnings downgrades.
Read More: KKR's McVey Sees Opportunities in Europe Amid Slowdown, Brexit
"We are not bearish, but we do not think that public markets will continue to appreciate in a straight line from current levels if earnings growth continues to disappoint," Henry McVey, the firm's head of global macro and asset allocation, wrote in a report released Wednesday. The equity upgrade in January was "based on our belief that investors were already pricing in a recession, " he said. Now, "We think that fear is no longer being discounted in global equity prices, U.S. ones in particular."
The S&P 500 fell for a second day as attempts to surpass 2,800 failed to take hold. While KKR's economic models point to a "notable" slowdown this year, McVey said accommodative monetary policies from China to the U.S. and Europe will provide a buffer for the market.
"Central banks are now –- without question –- more dovish than almost anyone in the investment community was thinking coming into this year," he wrote. "The environment for many risk assets seems fairly balanced."