Killing Coal Requires Gas Transition in Europe's Dirtiest Corner
(Bloomberg) -- Natural gas will serve as a bridge for the western Balkans, where nations seeking to join the European Union need to move away from coal to renewable sources, a top official at the European Bank for Reconstruction and Development said.
Coal-fired power plants generate more than half of the six-nation region's electricity, enveloping cities in heavy smog for months every year to create the most-polluted air in Europe.
Some wind and solar power plants are being added in Serbia, Montenegro, Bosnia-Herzegovina, Kosovo, and North Macedonia, while Albania traditionally relies on hydro energy. The EBRD is helping finance gas transmission networks and gas-fired plants to help that transition to renewable output.
"You can't go from coal to renewables without an intermediary step," Charlotte Ruhe, managing director for the region, said in an interview. "We believe that gas has to be the intermediary."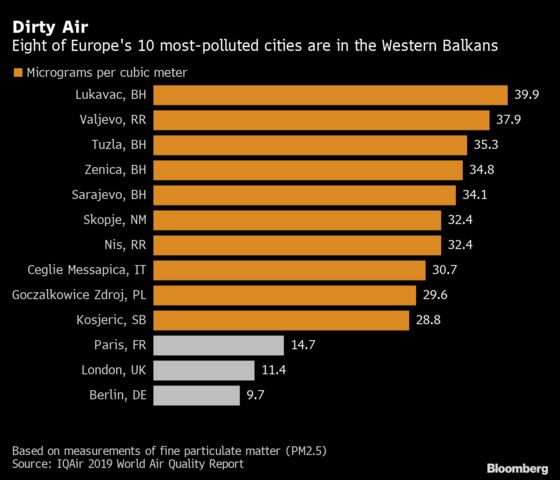 The EBRD, which is mandated to keep 40% of its portfolio in green-energy projects, has financed a gas-fired plant and natural gas pipelines, while the European Investment Bank, which also lends extensively in the Balkans, has committed to ending all financing of fossil-fuel projects.
While a fossil fuel, natural gas causes far less environmental damage than burning the low-quality coal widely available in the Balkans. It can fuel power plants providing electricity as a necessary baseload backing intermittent output from wind and solar farms.
Ruhe said some of the EBRD's 69 country shareholders, which she didn't name, objected to financing any fossil fuel projects and wanted the bank to stop.
"But I feel like we have to offer these countries the intermediary step," she said. "Gas is the only solution."
Meanwhile, the Balkan nations that have pledged to clean up their energy sectors on their EU accession path, are still investing in coal plants. Bosnia announced last year it was beginning work on a new one and Montenegro is overhauling an obsolete generator, both with Chinese participation.
"This is a region that needs to have cleaner energy, and it also needs cleaner industry," Ruhe said. "Greening the energy sector is one of our top priorities."